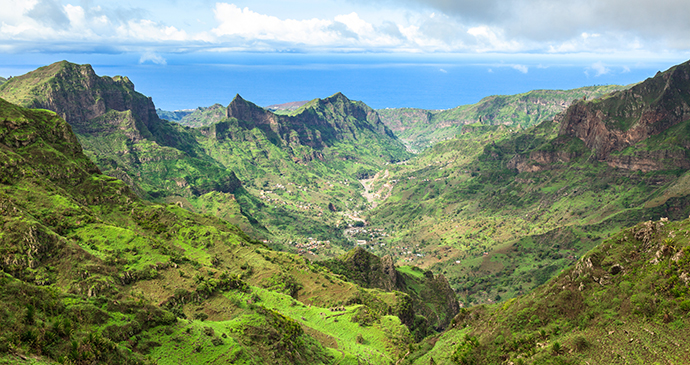 Serra Malagueta's mountains offer many hiking opportunities © Sam74100/Dreamstime
Spot a vervet monkey or two while hiking on marked trails.
Situated in northern-central Santiago, Serra Malagueta is an important area ecologically and one of the last remaining forest resources on Santiago. It is the starting point for some classic Santiago hikes.
The heart of the area is now a natural park, which spans 774ha and reaches a height of 1,064m at the peak of Monte Malagueta. The park houses important threatened and endemic species. There is even one local endemic, the carqueja de Santiago, a small shrub that lives between 500m and 800m. The ecotourist facilities offered are not quite as well advanced as those in Fogo or São Nicolau but there is a newly relocated centre and the management has created a campsite and marked out (on a map and information boards) some suggested hikes covering in total 55km and with a wide range of difficulty and duration.
While hiking in the area, watch out for vervet monkeys and for the rare endemic Cape Verde purple heron or garça vermelha (Ardea purpurea bournei), which can be seen here in the trees near the Centro Ambiental. Santiago is its only home.