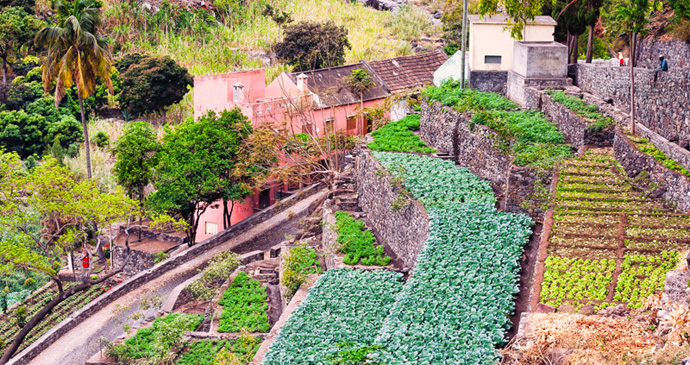 A farm cut into the hillside on the island of Santo Antão © Frank Bach/Shutterstock
Excellent hiking in a ribeira that offers panoramic views and an insight into the many inhabitants' fascinating everyday lives.
A vast ribeira home to thousands of people and their agriculture – sugarcane, breadfruit and bananas – Paúl is renowned throughout the archipelago for its grogue, and one of its trapiches (sugarcanejuicing apparatus) is still driven by oxen. Highlights include Passagem, with its charming municipal park nestled among impressive almond trees and bougainvilleas. Beyond the villages of Lombinho and Cabo de Ribeira, up a steep incline, a panoramic view of the valley and ocean opens out. The road ends at Cabo de Ribeira, but a steep cobbled footpath continues to Cova, an impressive ancient crater now filled with verdant cultivation. Walk up or down, depending on your fitness and appetite for climbing; there are plenty of little shops and a few restaurants en route.