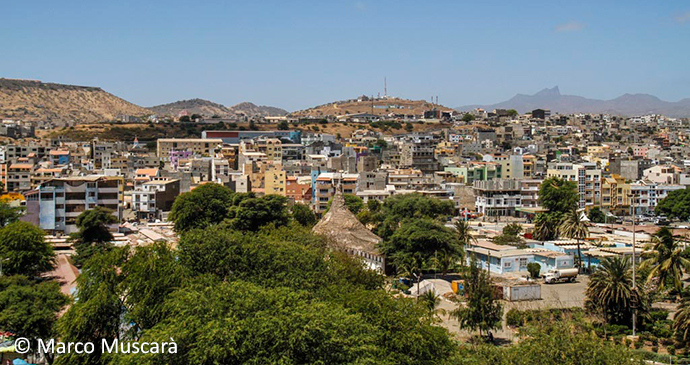 A view over the Plateau, the centre of Cape Verde's capital, Praia © Marco Muscarà
With its centre perched up on a plateau, Cape Verde's capital city is home to over 1/2 of its population.
Built on a tableland of rock, with the city overflowing on to the land below its steep cliffs, the centre of Praia – its Plateau – is attractive. It has a disorientating feel: it is indisputably African and yet Mediterranean as well.
Praia continues its rapid growth and the current estimated population is in excess of 130,000. Infrastructure – from sewage treatment to electricity generation – is finding it impossible to keep pace with this chaotic expansion. Journey to the outskirts of Palmarejo, where there is frenetic building, and you will see an entire hill being gradually, and illegally, hand-mined away. Some of the miners live in little caves in the hillside.
During the day, people of every shade of skin go about their business on the Plateau. At night, and on Sunday mornings, though, the Plateau is empty – life continues in the scattered regions beyond. To its south rises another level plain, the Achada Santo António, where the more affluent live in apartment blocks and where you'll find the huge parliament building. Between the two lies Chã de Areia, and, in front of Achada, Prainha, where there are embassies, expensive hotels and nightclubs.
Other districts include Terra Branca to the west and Fazenda district to the north. Palmarejo, separated into the coastal and upper suburbs, is a new, middle-class residential area to the west of central Praia, still under development with apartment blocks, a few decent cafés and a hotel on its Avenida de Santiago. To the northwest is a huge sprawl of half-built houses and burning litter – Cape Verde's version of the urban drift from the countryside.