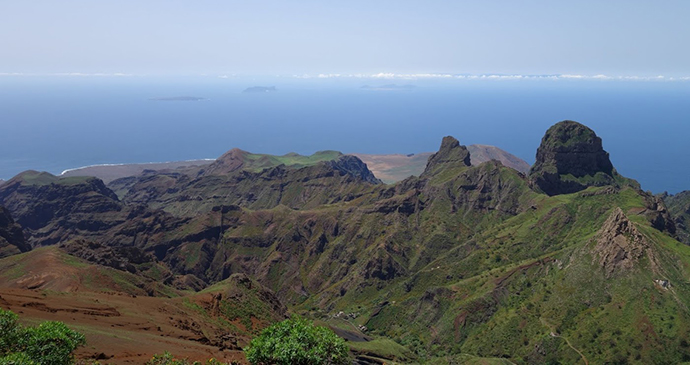 A view of the offshore islands from the summit of Monte Gordo © Martin Haigh
Beautiful setting for some scenic hiking trails.
Although there are 47 protected areas in Cape Verde, enshrined in law, all but Monte Gordo have an Achilles heel: their precise, mapped boundaries have not been legalised. This leaves them vulnerable. In Boavista, for example, there are several areas where land originally allocated for protection has been reallocated for tourism development instead.
In São Nicolau, however, the boundaries of its beautiful heart were officialised in 2007. Much work has been done and more is still underway to create a park that is pleasant for tourists and might enhance the prosperity of the people who live there.
The park occupies some 952ha in the northwest of the island, and includes the peak of Monte Gordo.
It's an important area ecologically because of its rich biodiversity. The unique conditions that have generated this interesting ecology set it apart, not just from the rest of the island but also from the rest of Cape Verde. At the heart of these differences is climate, which affects not just life in the area but also landscape. In the south and southeast there are humid and semi-humid regions. In the north and northwest it is arid.
A key aim of the park is to develop a thriving local economy predicated on conservation of the area: over 2,000 people live within the park boundaries. This is why a lot of thought has gone into training guides (who are salaried), and training local people to be useful to visitors, for example by making handicrafts. There is a good park office where you can get information and purchase handicrafts made exclusively on the island. The park certainly has potential, yet to be fulfilled.