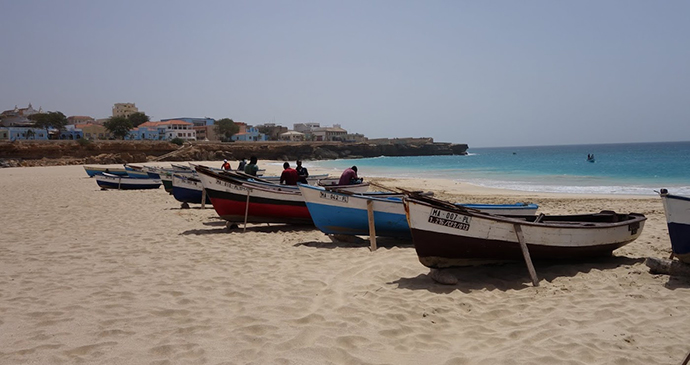 Fishing boats on the beach at Porto Inglês, Maio © Martin Haigh
The 'forgotten island' – a quiet location for relaxation and contemplation.
Maio was, and some would say still is, the forgotten island. Its quiet dunes and secret beaches have been overshadowed by the more boisterous Sal and beguiling Boavista. It has been waiting to be thrust into the tourist mainstream, and fleetingly it seemed that its time had come. But plans for a massive increase in accommodation have, at least for now, been thwarted and development projects stand gathering dust. How the transport and other infrastructure were ever intended to keep pace is unclear. For many, this is a blessing, as it leaves undisturbed this island backwater. With uncertainty over Maio's future as a mass-market destination, restaurants and tourism-related businesses are susceptible to frequent changes of ownership and closure. Visitor footfall is light. Those who live on Maio or visit it frequently justifiably claim that the island is overlooked in other ways. Flight times are often changed, cargo boats fail to materialise and as a consequence, the shops sometimes run short of supplies. But visitors may revel in the authentic feel that Maio possesses, the genuineness of the island and the seemingly gentle and welcome indifference of the inhabitants to grabbing hold of your hard-earned holiday spending money.