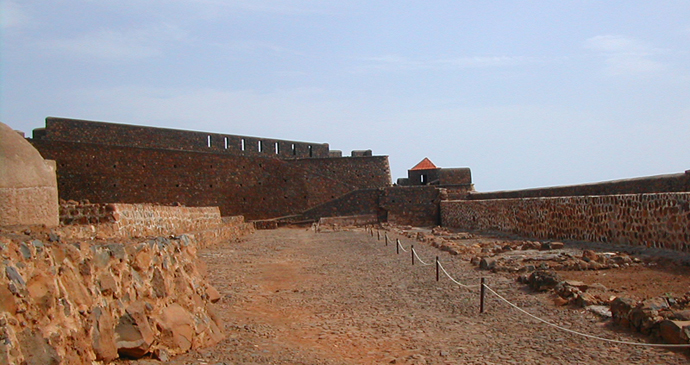 Interior of the Fort de São Filipe, Cidade Velha © CorreiaPM/Wikipedia
A UNESCO World Heritage Site, Cape Verde's most renowned historical site has churches, a fort and a cathedral.
This once-proud town, formerly known as Ribeira Grande, has had nearly 300 years to decay since the French robbed it of its wealth in 1712. Now there is just an ordinary village population living amongst the ruins of numerous churches, the great and useless fort watching over them from a hill behind. Its inhabitants are still poor but there have been efforts to develop some tourist potential in town and it is becoming a delightful place, with cafés on the shore, bright fishing boats in the harbour and a tourist information office, albeit one that is very shy about opening. It is magical to wander through the vegetation in the ribeira and in the surrounding hills to discover the ruins of what was once a pivot of the Portuguese Empire. It's popular as a Sunday destination for city dwellers.