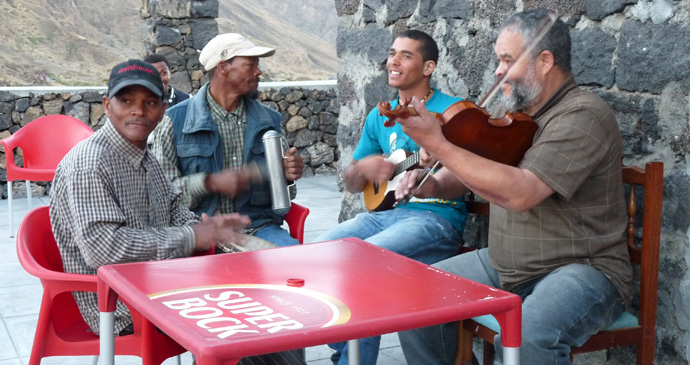 Musicians in the town of Chã das Caldeiras: Cape Verde is famous for its music © Ji Elle/Wikipedia
Sleep beneath the brooding volcano amidst stunning landscapes or take the steep climb to the top.
The road to the volcano passes first through pleasant countryside dotted with abandoned Portuguese farms, and old volcano cones, and filled with cashew, banana and papaya trees. Just after a left fork, where the sign says '14km to Parc Natural de Fogo', is the 1951 lava spill down the right-hand slope.
Later the road becomes a series of terrifyingly steep hairpin bends with views down the massive ancient lava spills to the coast. Then it enters the echoing silence of the crater. Its sinister dark walls, and the vast clods of lava scattered over it, make one feel very small.
Some of the people are of a different race – light skinned, straight haired, some of them even blond and blue eyed. These are the descendants of the fecund Duc de Montrond, a French nobleman who came here in the 19th century and brought the vines that began Fogo's wine production. Clearly he planted his seeds in more ways than one as currently more than half of the Chã villagers bear the Montrond name!
There have been many attempts to improve the crater's fragile ecology and geology, and to develop an economy. One step has been to define the crater as a natural park; another has been to set up small-scale tourism, with bed and breakfasts, restaurants and a network of hiking trails and guides to accompany walkers. Of course, the volcano has not always been a willing accomplice in this, but reconstruction is again underway.
The crater settlement is traditionally split into two villages: Portela (upper) and Bangaeira (lower), though there was actually very little to distinguish them from each other. Nevertheless, that does not diminish the rivalry when the two meet in local football matches, on a pitch which must be almost unbeatable for its stunning volcanic backdrop.
In many places in Chã das Caldeiras the electricity is turned on in the early evening and off at 22.00.