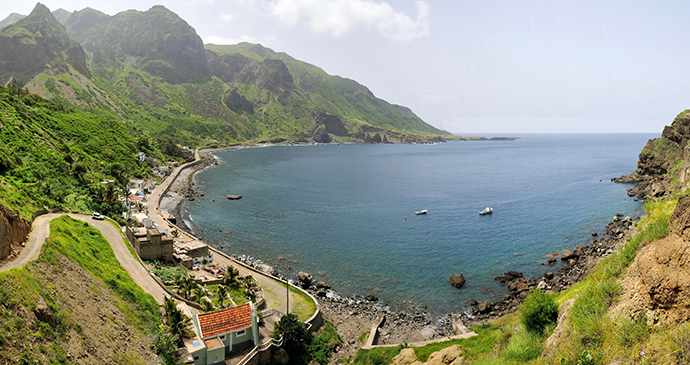 A view of Fajã d'Água, a remote valley in the west of Brava Island © Raulrosa/Dreamstime
Take a fishing trip with local fishermen from Fajã d'Água, arguably the archipelago's prettiest bay.
Brava is the most secret of the islands – a volcano crater hides its town, rough seas encircle it and the winds that buffet it are so strong that its airport has been closed for years. Brava lies only 20km from its big brother, Fogo, but many visitors to Cape Verde will merely glimpse it from the greater island's western slopes.
Brava – or 'wild' island – appears at first to live up to the meaning of its name. Approaching by boat, the dark mass resolves itself into sheer cliffs with painted houses dotting the heights above. A few fishing hamlets huddle at sea level.
But its unpromising slopes hide a hinterland that is at times fertile and moist, filled with hibiscus flowers and cultivation. At least that is how it was: today, after years of drought, its flowers are less visible and its food more likely to be imported than grown.
This tiny, westerly island, dropping off the end of the archipelago into the Atlantic, seems to hide from its companions and look instead towards where the sun sets – it is dreaming of the wealth of the USA. Perhaps that is no surprise. For Brava is the island where the great 19th-century American whaling ships called to pick up crews and spirit hopeful young men away to new lives in another continent. The legacy is an island full of empty houses waiting for the return of the Americanos who have built them for their retirement. Meanwhile, a big container ship from Boston visits several times a year and American goods appear in the streets. Brava Creole is peppered with American expressions; those who speak English do so with a transatlantic twang, their words emerging from beneath a Boston Red Sox baseball cap. For some visitors and the few expats who have chosen to live here, Brava is the most 'authentic' of the islands. There are few concessions to tourism and the inhabitants get on with their everyday lives regardless. Having said that, those visitors who choose to engage with the locals will find a friendly, welcoming and gregarious people, more than willing to share their time and space with tourists. At times you may feel that you are the real attraction.