Author's take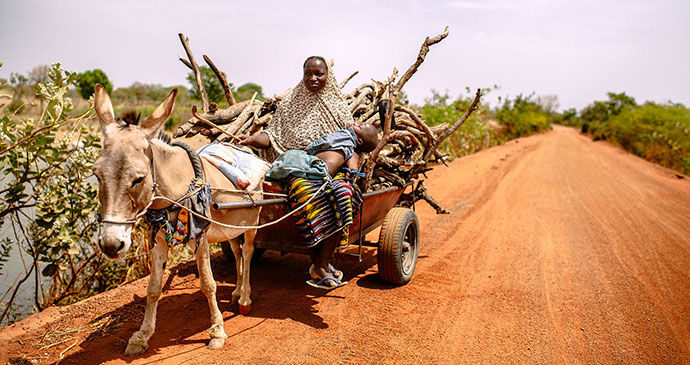 A local woman and her donkey © Ollivier Girard, CIFOR
The Land of Honourable Men (the translation of Burkina Faso) has a nobility borne from much more than its name. It comes from a shared identity that unites 60 ethnic groups in religious and social harmony, a love of talk and tradition, and a sense of hospitality that embraces the enthusiastic and the curious. Unrest in the first half of 2011 means that travellers to the country will have to be more wary than they have needed to be in the past, and at the time of writing it is difficult to know what will happen.
Celebration through art is something of a mantra here. Burkina's long relationship with cinema has given birth to the magnificent biennial film festival Fespaco, the Cannes of Africa, and the craft fair SIAO. Both are the largest events of their kind on the continent. However, Burkina does much more than one-off events. Its cultural traditions are still alive today: throughout the year live venues will struggle with the dodgy local electricity supply to pump out music for as long as there is anyone left to dance; galleries will spring up in restaurants and houses to showcase the work of up-and-coming contemporary artists; craftsmen on the side of the road will practise and cherish the artisanal secrets passed onto them by their fathers and grandfathers; new troupes will organise their own festivals to portray their updates on sacred mask dances; and bronze workers will shape their wares in the ashes of a village compound.
Firmly held links with the past lead to a fantastic variety of beliefs, practices, dress and even architecture: small, rounded, earthen homes tucked into the cliffs of the Senoufou; brick-like windowless fortresses of the Lobi; Mossi round huts capped with straw; brightly decorated death-traps of the Kassena; and bulging Sudanic mud mosques stuck with wood as if under the acupunctural care of the gods. To the north, there is the romance and heat of the semi-desert Sahel, home to nomadic herders. You can watch furious trading at camel and cattle markets and sleep in open-sided Tuareg tents, or lie among dunes under the stars.
On the subject of landscape, we'd read books, guidebooks even, that said Burkina was flat, dry and boring. Look hard and you'll find domes, crags, waterfalls, escarpments and lakes. Its savanna scrub is home to the largest number of elephants in west Africa, and nose-to-trunk encounters with the big grey beasts in its parks and reserves are common. Game is on the increase and wildlife viewing is as good as anywhere in the region, with hippo, antelope, crocodile, warthog, baboon and monkey easily spotted. Lion, leopard and, exceptionally, cheetah are harder to spot, but nevertheless present.
Village life remains at the heart of the country and centuries-old practices are easily glimpsed: karite nuts crushed until they ooze the cosmetic magic of shea butter; the first taste of freshly brewed millet beer; goatskin hides pegged on washing lines to dry. There's no need to be intimidated by the language barrier, either. Yes, you will need at least basic French to get the most out of Burkina, but none of your efforts will go unrewarded. And forget any stereotypes you may have of linguistic snootiness here – there'll be a warm welcome for any efforts to engage and a few Burkinabe twists on the language along the way. The country gives the independent traveller the chance to be just that – independent. There is no tourist trail, no tyranny of the 'must see'. If you want to visit a goldmine, or track down some hidden cave paintings, scale a nearby hill for sunrise or find a village of exceptional potters, then it's down to you. Sound out local information, get hold of a moped, and just go.
Author's story
Katrina had wanted to go to Ouagadougou ever since she was nine. On attempting to learn all the capitals of the world, none sung out with as much charm, mystery and beauty as the vowel-tastic centre of Upper Volta (the ancient map, stuck to the bedroom wall, recorded only Burkina's old colonial name). More than a few years and several airport tequilas later, off we were to this magic land. The more we read up on the country, the harder we found it to believe that so few people had heard of it, let alone visited. Several of our friends thought we were going not to Burkina Faso, but to a place called Bikini Fastener. One artistic and supportive soul even made a T-shirt reading 'Haven't you heard of Burkina Faso?' to jolt London's busy passing streetwalkers into cognisance. A couple of months in, when we celebrated New Year's with mojitos at a street cafe in the tongue-twisting capital that was now our home, we knew we had found somewhere special. Part of the anonymity of Burkina arises because it is not full of checklist tourism – the kind of spectacular one-off attractions or feats that act as international calling cards. It does not have Mali's Bandiagara Escarpment, Uganda's gorillas or Botswana's Okavango Delta. This is also its greatest strength. The infancy of the tourist industry means there is a remarkable absence of barriers between you and anything you come across. The hypnotic, breathtaking dances and frantic contortions of a mask festival, for example, are not put on for the benefit of visitors – they exist for the village, and the ancestors.
Many a memory stays with us, like turning up at an unknown village and sleeping on a roof instead of under one, canvassed by the stars. Or the way a game of table football on virtually any street corner acts as an icebreaker. And the taste of perfectly cooked garlic chicken as you watch couples on an open-air dancefloor accompany the night-time into the early hours. When we first started this project there was no 'trail', meaning we had to make up the rules as we went along. The good news is so will you. No wonder another pal thought BF stood for Bloody Fantastic.