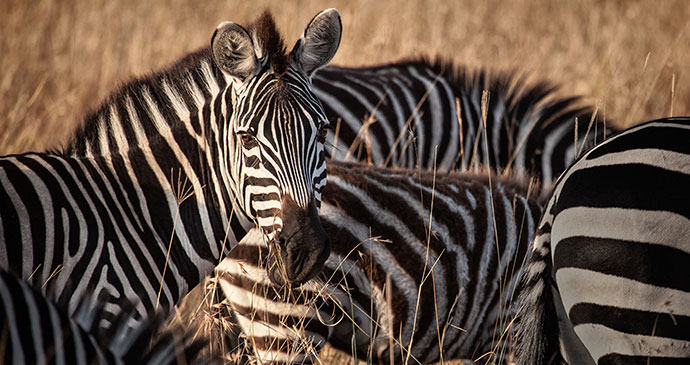 Burchell's zebra can be found around the Linyanti swamps all year round © 2630ben, Shutterstock
Between June/July and December, you'll regularly find very large herds of both buffalo and elephant in the area, hundreds strong.
Almost parallel to the Okavango, the Kwando River flows south from Angola across the Caprivi Strip and into Botswana. Like the Okavango, it starts spreading out over the Kalahari's sands, forming the Linyanti Swamps. Also like the Okavango, in wetter years this is a delta, complete with a myriad of waterways linking lagoons: a refuge for much wildlife. It's a wild area, much of which is on the Namibian side of the border, in the Mamili National Park, where it's difficult to access. A faultline channels the outflow from these swamps into the Linyanti River, which flows northeast into Lake Liambezi, and thence into Chobe.
Both the Kwando and the Linyanti rivers are permanent, so for the animals in Chobe and northern Botswana they are valuable sources of water. Like the Chobe and Okavango, they have become the ultimate destination for migrations from the drier areas across northern Botswana – and also sought-after safari destinations, especially in the dry season.
All year round you're likely to see impala, kudu, giraffe, reedbuck, steenbok, warthog, baboon and vervet monkeys throughout the area. Lion and spotted hyena are common, and generally the dominant predators, whilst leopard are often seen in the riparian forest and can be the highlight of night drives.
Cheetah occur, but not very frequently, and may have moved out of the area. Wild dog usually stay near their dens from around June to September (with July and August being the most reliable time for them), and then range widely over most of northern Botswana. Wild dog sightings on the reserve were reportedly consistent in 2012, with two packs being spotted regularly, one of which is believed to have denned between Savuti and Duma Tau. (As an aside, dens in wild areas like this are not easily located, even when wild dogs have a presence in the vicinity.)
Blue wildebeest and Burchell's zebra are present all year, although around May they will arrive in larger numbers, remaining within reach of the water until just before the rains begin in around November–December, when they head off southeast towards Savuti Marsh. Elephants and buffalo follow a similar pattern, with small groups around all year, often only bulls, but with much larger breeding herds arriving in June–July and staying until December. During this time you'll regularly find very large herds of both buffalo and elephant, hundreds strong.