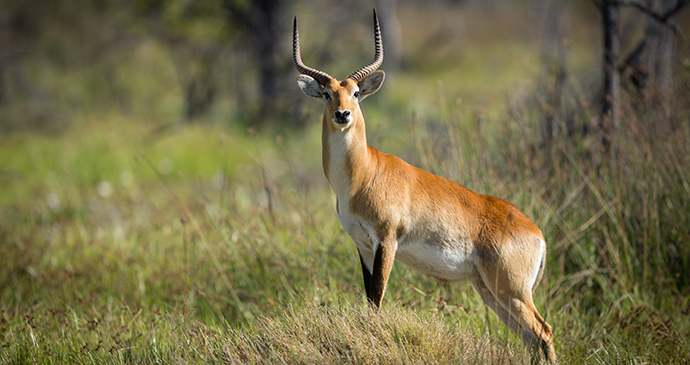 Moremi protects a dense and diverse population of animals © Stuart G Porter, Shutterstock

The oldest protected section of the Okavango Delta and a magnet for self-drivers.
Moremi Game Reserve protects the central and eastern areas of the Okavango Delta. It forms a protected nucleus for the many wildlife reserves/concessions in the region. Physically Moremi is very flat, encompassing extensive floodplains, some seasonal, others permanent, numerous waterways and two main land masses: the Mopane Tongue and Chief 's Island. Its area is defined in some places by rivers, although their names and actual courses are anything but easy to follow on the ground. Its northern boundary roughly follows the Nqoga–Khwai river system, while its southern boundary is defined in sequence by the Jao, Boro and Gomoti rivers.
The ecosystems here are among the richest and most diverse in Africa. Thanks to generally effective protection over the years, they have also been relatively undisturbed by man. Now with wildlife tourism thriving around the park as well as in the private concessions, we can be really optimistic about its future. The regime of conservation supported by money from benign tourism is gaining ground. One such success story is the reintroduction of rhino into Moremi: the first to be sent back into the wild areas of northern Botswana since poaching wiped them out. With this reintroduction, you can see all the Big Five, and a lot more besides.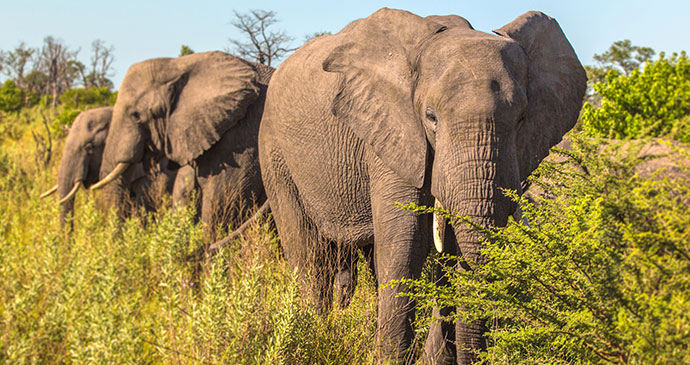 It is possible to spot all of the Big Five in Moremi © Joakim Lloyd Raboff, Shutterstock
Elephant and buffalo occur here year-round in large numbers, and you're likely to see blue wildebeest, Burchell's zebra, impala, kudu, tsessebe, red lechwe, waterbuck, reedbuck, giraffe, common duiker, bushbuck, steenbok, warthog, baboon and vervet monkey throughout the park. Eland, sable and roan antelope also range across the park but are less common, as they are elsewhere in Africa. Sitatunga live deep in the swamps. Lion, leopard, cheetah and spotted hyena all have thriving populations here. Moremi is central to wild dog, which range widely across most of northern Botswana.
For bird lovers, Moremi boasts over 400 species, a great variety, which are often patchily distributed in association with particular habitats; though visiting any area, the sheer number of different species represented will strike you as amazing.