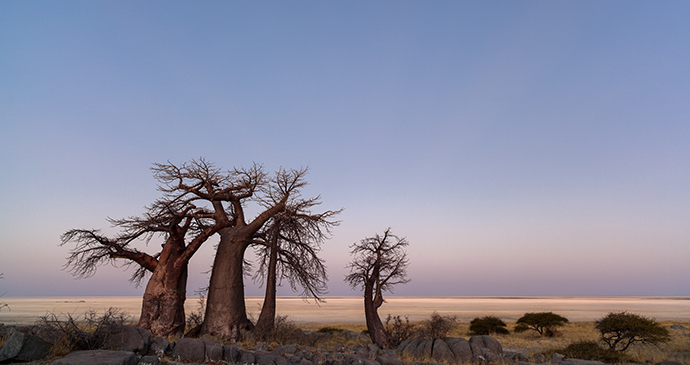 The mighty baobabs are perhaps the region's best-known and most easily identified trees © Hannes Thirion, Shutterstock
These fascinating dry salt pans change character completely during the rains – if you time it right, you could see some absolutely stunning birdlife.
The Sua and Ntwetwe pans that comprise Makgadikgadi cover 12,000km² to the south of the Nata–Maun road. The western side is protected within a national park, while the east is either wilderness or cattle-ranching land. These are amongst the largest salt pans in the world and have few landmarks. So you're left to use the flat, distant horizon as your only line of reference – and even that dissolves into a haze of shimmering mirages in the heat of the afternoon sun.
During the rains this desolate area comes to life, with huge migrating herds of zebra, wildebeest, and occasionally (if the pans fill with water) pelicans and many thousands of flamingos. A couple of odd outcrops of isolated rock in and around the pans add to their sense of mystery, as well as providing excellent vantage points from which to view the endless expanse of silver, grey and blue.