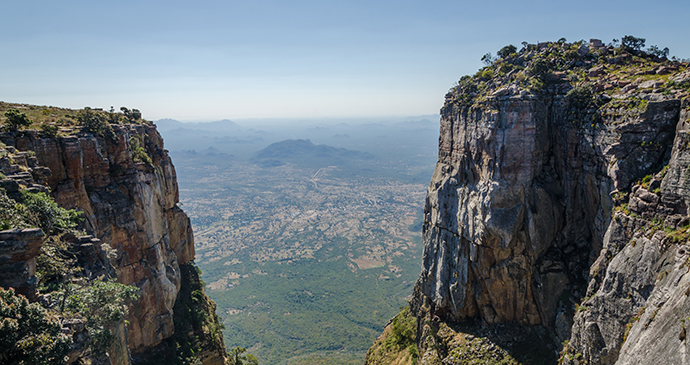 This breathtaking gorge plunges 1,000m to the valley bellow and offers spectacular views of the Chela Escarpment © Fabian Plock, Shutterstock
Climb above the clouds at Tunda-Vala volcanic gorge.
Tunda-Vala (also known as Tundavala) is a breathtaking gorge cut out of the Chela Escarpment looking towards the town of Bibala in the north, and Lubango's second must-see. Again, there's no public transport so you'll need to arrange an informal taxi to get you there. If you have your own car, getting to Tunda-Vala is easy; it'll take about 3 hours for a round trip and you can do it in a normal car if driven carefully and if in the dry season. Tunda-Vala is about 17km northwest of the centre of town and you'll need to leave Lubango on the main road passing the former Grande Hotel on your left heading up the gentle hill out of town towards Namibe. About 3.5km after the hotel, Tunda-Vala is signed to the right on a good tarmac road which passes first the N'gola brewery (5km after the turning) and then the Coca-Cola bottling plant 1km further on. Stop for the freshest and cheapest draught beer in Angola at the modest Pérola do Sul bar on the left-hand side of the road between the two bottling plants. The road continues and, as it ascends, the tarmac disappears and the surface turns first into a gravel road then a dirt track, eventually opening up on to a wide high plain with a moonscape of weird-shaped rocks, many of which have been stacked precariously on top of each other by nature. Tunda-Vala is at the end of this track. A concrete viewing platform has been built at the point where a deep ravine slices into the edge of the vertical cliff. At the bottom of the cliff some 1,000m below is a wide green plateau punctuated with odd-shaped hills that stretches to the sea over 130km away at Namibe. To get a feel for the height of the cliff, toss a stone over the edge and count until it hits the bottom – usually about 8 seconds. Here, above the clouds, the air is clear and you may see the occasional eagle and monkey.