Author's take
Angola, for many members of the older generation, still evokes distant memories of grainy black-and-white TV coverage of a guerrilla war in a remote part of Africa. Those with good memories may recall the initials UNITA and MPLA and the names 'Savimbi' and 'Dos Santos'. Few will know what these initials stand for, who Savimbi was, and who Dos Santos is, never mind why they were fighting. For those with more social media exposure, Angola only ever seems to pop up with reference to the outrageous cost of living in the capital city Luanda, frequently labelled by organisations such as Mercer as the most expensive city in the world for expatriates to live in. As is often the case, there is an element of truth in both of these first impressions, but this is not the whole story.
Angola's turmoil began in earnest in the 1960s as it fought for independence from Portugal, its harsh colonial ruler. The Luta Armada (Armed Struggle) did not stop when Portugal divested itself of its overseas territories and granted independence to Angola in 1974. Instead of grasping the opportunity and taking the fledgling country forward, the various rival independence movements fell out and the country descended into civil war. Millions were killed and injured. The infrastructure was shattered and the countryside laid to waste by minefields. Peace didn't arrive until 2002, when Angolan TV broadcast pictures of the body of Jonas Savimbi, the charismatic leader of UNITA, who had been killed by government forces in Moxico province. The only international bodies to celebrate with them were oil and diamond companies – few outside Africa cared about the end of a war that had never truly been understood due to its complexities.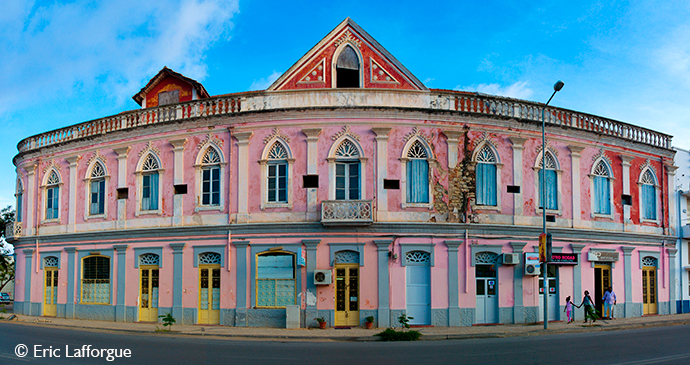 With a distinctly tropical feel, the ocean-side town of Lobito has sandy beaches, abundant palm trees and a wealth of colourful Portuguese-style buildings © Eric Lafforgue
So what can a visitor expect when they go to Angola? The hackneyed phrase 'war-torn Angola' should be deleted and consigned to the recycle bin. Angola is not clinging mawkishly to its past; the war is over and there is no chance of a return to conflict. Angola is moving forward, reconstruction is taking place everywhere and there is a huge feeling of self-confidence, pride and optimism, especially since reform-minded President Lourenço came to power in September 2017. Visitors will find a sprawling capital city, Luanda, several burgeoning provincial capitals (Cabinda, Huambo, Lubango and Benguela), and a handful of underdeveloped provincial capitals. In between there are miles of beaches, tropical rainforests, desert and savanna, all populated by Angolans who are generally welcoming of outsiders.Then there's the amazing birding, the surfing, the Portuguese architecture, the food, and of course the sublime weather. More and more of the country will become accessible over the next few years as the road network is rebuilt and the railway service expands – visitors will be able to travel to places previously only accessible by air, or reach towns much more quickly, where previously you had to spend several days bouncing around in the back of a truck.
Having said that, Angola is still not a holiday destination for beginners. The tourist infrastructure is basic but improving: there are few five-star hotels, flights are expensive, and hotel choice in the provinces is often limited. But before turning elsewhere, visitors should pause and take into account Angola's recent past. Perhaps then they can appreciate what enormous steps the country has taken since the war ended and what enormous challenges it faces in the coming years. Angola is keen to regain lost time and things are changing incredibly fast. In March 2018 they even introduced a new e-visa system that allows most nationalities to collect a tourist visa upon arrival. It's been a real pleasure updating the book and recording the many positive changes that are happening. Travellers shouldn't waste another minute if they're keen to see its raw beauty before the number of tourists increases dramatically!
Author's story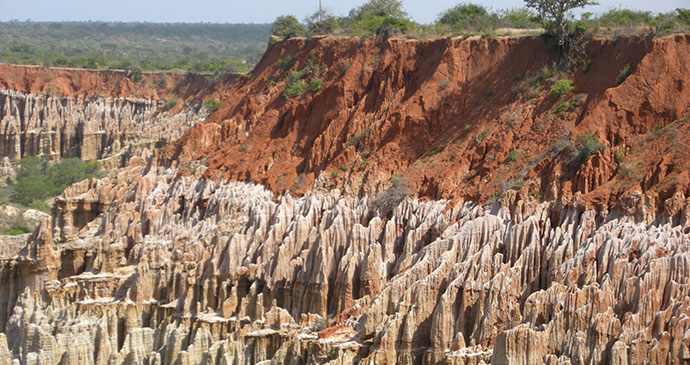 The lunar landscape of Miradouro da Lua is a cliff with sharp pinnacles and deep gullies carved from the soft rock by wind © mbrand85, Shutterstock
Angola was my home from August 2009 to August 2014 and, given the right attitude, it is a fantastic place to live. There are certainly frustrating aspects to life here, many of which are not unique to Angola. You may notice slow internet, terrifying driving standards, petty corruption and a lack of access to affordable consumer goods. Other issues are slightly more unique, such as the high cost of living. However, these problems are not the whole story. There has never been an easier time to visit Angola. There is a spirit of optimism in the air as the new administration takes a more open approach to Angola's engagement with the outside world, starting with the huge step of allowing tourist visas on arrival! When you arrive you will see that Luanda is a vibrant, exciting city, intimately connected to the rest of the Lusophone world. Outside the capital, Angola has a stunning variety of landscapes for the intrepid traveller to explore, from tropical rainforest in the north to desert in the far south. With a bit of hunting around you can find everything from elephants and hippos to world-class surf. Unlike in nearby South Africa you will probably have these all to yourself. The people of Angola are very welcoming, even if you are one of the first tourists they have ever laid eyes on. Hopefully this guide will encourage readers to pack up their 4×4 and head out of the capital on one of the new Chinese roads to explore some of the lesser-visited corners of this fascinating nation. Tourism is one of Angola's most promising routes away from oil dependence and towards sustainable economic growth. I hope that this guide serves to assist the Ministry of Tourism in developing this area of Angola's economy that has so much potential.