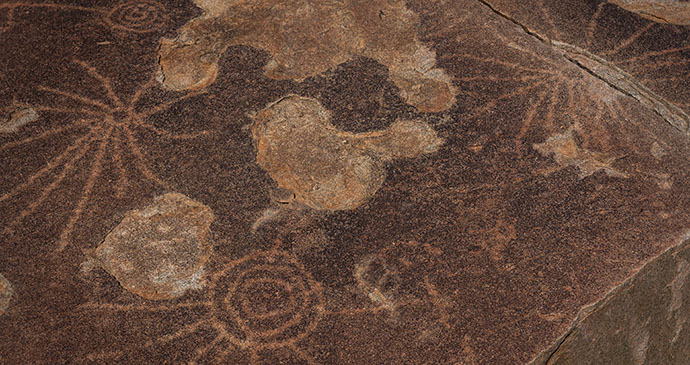 The prehistoric Tchitundo-Hulo rock paintings, deep within Namibe province, are around 20,000 years old and are thought to depict the sun and stars © Dan Grec, Shutterstock
Travel deep into the Namibe province to see the 20,00 year-old rock paintings at Tchitundo-Hulo.
This amazing set of prehistoric rock paintings necessitates a difficult and long 4×4 journey, about 137km west of Namibe close to Capolopopo. They are impossible to find without a guide and even then you may need to ask a local tribesman to help. The main set of paintings is spread out over a large steeply sloping granite rock face that is sacred to the Mucuisses people. There are so many paintings that it is hard not to accidentally stand on them. Near the top of the hill, a good 20-minute climb in searing heat, there are more paintings on the roof of an eroded overhang. A second set of paintings is a few minutes' drive away, on the roof of a rocky crag at the base of a hill (look out for the incongruous rusty old iron fence, put there in colonial times).