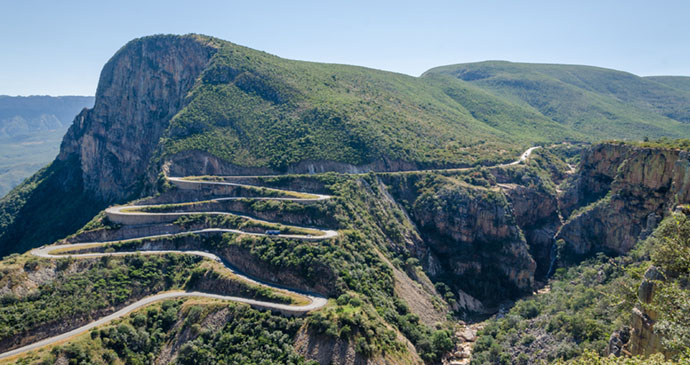 The road from Lubango to Namibe plunges down 1,000m down through the hairpin bends of the Serra da Leba © Fabian Plock, Shutterstock
Channel your inner Stig and tackle the hairpin bends of the Serra da Leba, before taking in the breathtaking views from the top of the pass.
Some 36km southwest of Lubango, the excellent tarmac road that links Lubango with Namibe plunges 1,000m down the Serra da Leba Escarpment in a series of hairpin bends. Even if you are not travelling on to Namibe, it's worth going to the top of the Leba Pass to get breathtaking views of the valley below. At the top, turn left immediately after the security barrier/toll station and head for the communication masts. At the end of the track is a viewpoint where you can see the steepest part of the road descend and disappear into the lush vegetation below. The road was built in 1970 and is widely regarded as the most spectacular and best constructed road in Angola.