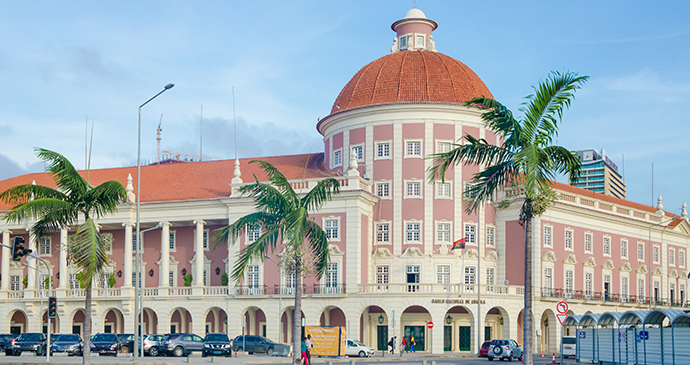 The striking pink National Bank is one of the finest remaining examples of Portuguese colonial architecture in Angola © Fabian Plock, Shutterstock
Luanda is a vibrant, exciting city, intimately connected to the rest of the Lusophone world.
Situated about a quarter of the way down Angola's Atlantic coast, Luanda is a vast and sprawling city that is difficult for visitors to get to grips with. It is a busy place where the gap between rich and poor is gaping. The population has grown exponentially since independence as millions of internally displaced people were attracted to the relative security of the capital and settled in musseques (shanty towns) near the centre and on the outskirts of town. In May 2014 Angola held its first census since independence, revealing a total population of 24.4 million people. This makes Luanda one of the most populous cities in Africa, and one of the five largest Lusophone cities in the world (the rest all being in Brazil). Since the end of the civil war in 2002, vast amounts of money have been spent to repair the city (along with the rest of the country), but much still needs to be done. The shiny new tower blocks owned by the oil companies stand in stark contrast to the modest houses and slums where the vast majority of Luandenses (Luandans) live. Even in the best parts of town, water, electricity and telephones can fail, but in the musseques these services are still very basic.
The various districts that make up the city each have their own function or atmosphere; the crescent-shaped Marginal road that follows the bay is the main focal point of the town and looks resplendent after a multi-million pound make-over, unveiled by the President in August 2012; the flat Baixa is the vibrant commercial and historic centre of Luanda with its old colonial buildings, narrow streets and small shops hidden away in back streets; the once very smart districts of Miramar, Alvalade and Maianga are altogether calmer and rise above the Baixa and are mainly residential suburbs and home to many expats; the Ilha is a long sand spit that creeps out to sea and forms the outer arm of the bay of Luanda. It's here on the Ilha that residents and visitors come to enjoy the many bars, restaurants and nightclubs, and the city's beach. South of the Ilha is a much larger sand spit, known as Mussulo. It is along this 35km peninsula that you will find some of the most exclusive beach bars of the capital, as well as the ocean-front residences of a number of ultra-wealthy Angolan families.