Splash around at the base of the Kalandula Waterdalls – the third tallest falls in Africa.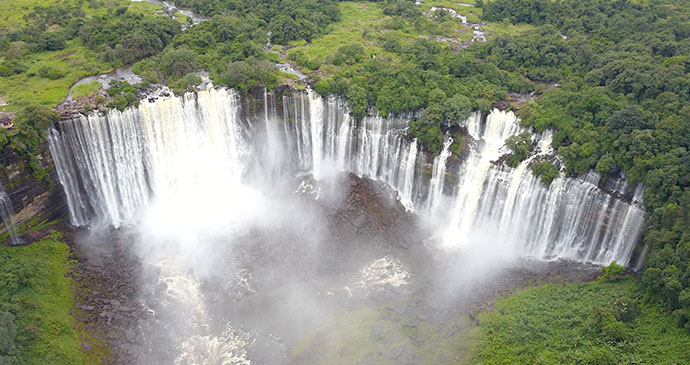 For best effect, visit these falls – the third highest in Africa – during the rainy season © Gabriel Sarabando, Shutterstock
Depending on which source you check, the waterfalls on the river Lucala at Kalandula are either the second or third tallest in Africa. Irrespective of ranking, at 105m high and about 400m wide they are spectacular and well worth making the effort to visit them. For best effect, try to visit during the rainy season from September to April (the rains are heaviest between November and January). Until recently the closest place to stay was Malanje, some 85km to the east, but a good quality hotel has now opened directly overlooking the falls. If travelling by taxi from Malanje, allow 1 hour to reach the falls. Expect to pay around 5,000AOA. There is a small aerodrome close by but it is not served by scheduled flights. The falls are reasonably well signed in both directions from the main N'dalatando to Malanje road, but look out for the colonial name of 'Duque de Bragança' rather than Kalandula on the broken white signposts
The drive across the green and undulating countryside is depressing as the road passes through many settlements that were destroyed in the war. Heavy fighting broke out here in 1984 and Kalandula was occupied by UNITA several times and for long periods. Most of the town's infrastructure was destroyed and the majority of the municipality's population moved to the relative safety of Malanje, Cacuso and Luanda. Driving through the town of Kalandula is particularly sad with its bombed-out cinema, houses and shops. Fortunately the impressive mission church (Igreja de São Miguel) built in 1958, a few kilometres from the town, survived. Ask a villager to point out the way as it is worth a quick side trip, if only to see a Portuguese-style church incongruously transplanted into the middle of nowhere.