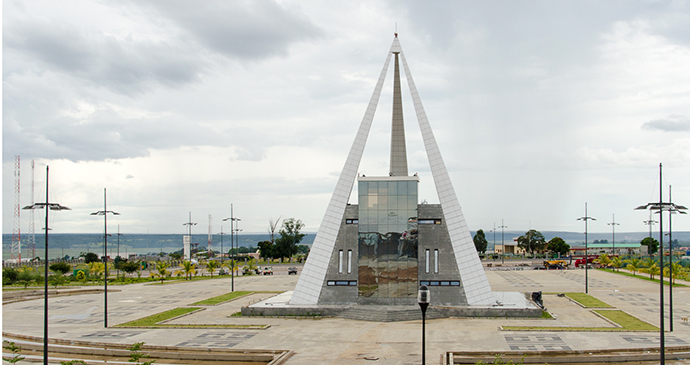 The pyramidal monument to all those who died during the Battle of Cuito Cuanavale © theonlymickey, Flickr

Get an insight into Angola's turbulent past at Cuito Cuanavale – still scattered with tanks and military equipment.
One of Angola's seminal confrontations occurred around the town of Cuito Cuanavale. In November 1987, after combat near the town of Mavinga, UNITA and the South African Defence Force (SADF) pushed a retreating FAPLA (the MPLA's army) back to Cuito Cuanavale. FAPLA made the decision to hold Cuito Cuanavale at all costs. They received assistance from Cuba and the Soviet Union – including fighter aircraft, artillery, and thousands of land mines which were planted in a ring around the city. Cuito Cuanavale remained under siege for four months; during this time UNITA conducted offensives with infantry and tanks – however by the end of the siege, South Africa had withdrawn most of their military.
Both sides claimed victory, with UNITA and the SADF inflicting huge casualties on FAPLA. FAPLA and the Cubans maintained control of the city, however, which they claimed was their primary objective. The drain on resources at the Battle of Cuito Cuanavale caused the three foreign powers – Cuba, the Soviet Union, and South Africa – to withdraw their foreign troops from Angola. The ensuing negotiations, known as the Brazzaville Protocol, would set the stage for Angola's elections in 1991.