Cycling experts from Hungary, Croatia, Serbia, Romania and Bulgaria, with support from the German Technical Cooperation (GTZ) GmbH, have been working on developing a cycle route along the Danube River from Budapest to the Black Sea since 2003, a route that forms just part of EuroVelo Route 6 that connects the Atlantic Ocean with the Black Sea.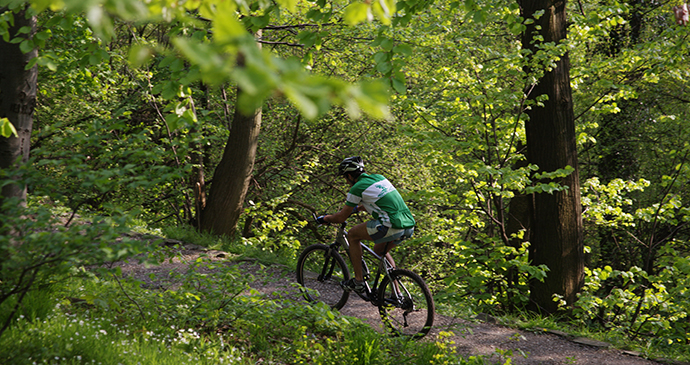 Together, they have produced a detailed cycling map and a website in English and German that contains plentiful information on routes, accommodation options and facilities, cultural attractions, suggested campsites and surface conditions along the way. The set of maps Donauradweg – from Budapest to the Black Sea (in German only) have been produced by Kartographie Huber and can be ordered online.
The Serbian section of this route, now complete, is undoubtedly the most significant move for cycle tourism ever made in Serbia and each year an increasing number of cyclists from all over Europe and beyond are coming to make use of it.
The Serbian section is in seven stages that begin at Bački Breg on the Hungarian border and end at Bregovo, just beyond Negotin, on the frontier with Bulgaria. Detailed maps of each stage can be downloaded from the danube.travel website, as can full details of the sights and facilities of the route along the way.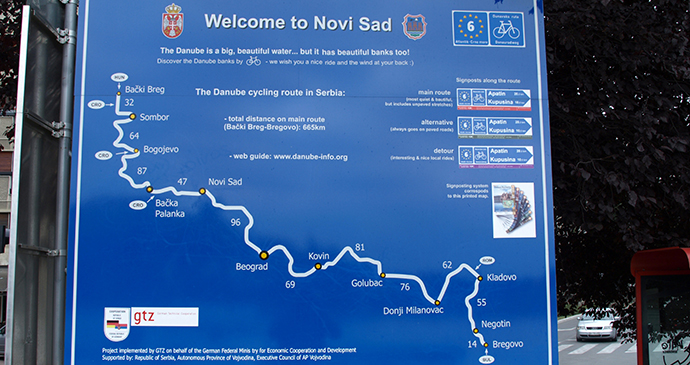 The total length of the route through Serbia is about 665km and this takes in cities along the river like Novi Sad and Belgrade in addition to smaller places like Sombor and Negotin that lie a little way from the water. A ferry is used to cross the river from north to south between Banataska Palanka and Ram east of Belgrade.
There are also plenty of suggestions for detours away from the river and consequently the amount of time taken for the passage through Serbia is very much up to the individual. It could be done in a few days by athletic types in a hurry – or over a leisurely fortnight by those wishing to fully explore the Danube hinterland.
For those who want a supported cycle tour along the river, ACE Adventure offers a seven-night, eight-day tour along sections of the route between Belgrade and Kladovo for €770. This is available between June and October, and takes in Smedervo, Skorenovac (the most southerly Hungarian community in Europe), Golubac and Lepenski Vir, is fully van-supported, and enables clients to cycle as little or as much as they wish. A self-guided option is available from €560.
---
More information
Ready to slip into some lycra? Check out our Serbia guide here: