Written by Deirdre Holding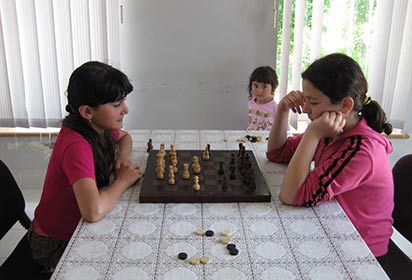 For a small country of only three million inhabitants Armenia has a remarkably high standing in the world of chess, being ranked fourth by the World Chess Federation (FIDE) behind Russia, Ukraine and China (September 2013). It has one of the highest per capita number of chess grandmasters. As of August 2013 FIDE listed 24 active (male) Armenian grandmasters, four women grandmasters, 17 international (male) masters and four women international masters.
(Photo: Local children have a game of chess © Deirdre Holding)
At the time of writing, Armenia's number one player, Levon Aronian, was ranked as world No. 2 by FIDE. He won the world cup in 2005 and was a World Champion candidate in 2007, 2012 and 2013. Five Armenians are in FIDE's top 100 players. At the international Chess Olympiads Armenia's men's team won the gold medal in 2006 and 2008 and the bronze in 1992, 2002 and 2004. Armenia was the World Team champion in 2011. The country has hosted many international competitions including the 32nd Chess Olympiad in 1996 and the 5th World Team Championship in 2001.
Chess has a long history in Armenia, being known since the 9th century and mentioned in manuscripts from the 12th and 13th centuries. It was popularised during the Soviet era and competitions started in 1927 with the founding of the Armenian Chess Federation. Its popularity increased with the successes of Tigran Petrosian who was World Champion from 1963 to 1969 and a member of the Soviet team which won the Chess Olympiad nine times between 1958 and 1974.
The Yerevan Chess House (50 Khanjian St, Yerevan; tel: 10 554 923) was opened in 1970 and since 1984 has been named after Tigran Petrosian whose statue stands in front of the building. It is home to the Armenian Chess Federation (www.chessfed.am) whose current president is Serzh Sarkisian, President of the Republic of Armenia. The Chess House publishes a weekly magazine, in Armenian, whose name translates as Chess in Armenia. The magazine's website (www.armchess.am) has details of competitions and live coverage of games. The Federation's website also has live coverage.
The Chess Academy of Armenia (www.chessacademy.am) was founded in 2002 under the auspices of the Armenian Chess Federation. Supported by the government, it organises chess tournaments and is the leading centre for chess training. In 2011 Armenia became the first country to make chess a mandatory part of the school curriculum for all seven to nine-year-olds, allocating funds to the Chess Academy to draw up courses, create textbooks and train instructors. Funds have also been allocated to equip chess classrooms in every school.