Every year we go on a company outing, and in late 2018 we put the authors of our guide to the Chilterns and the Thames Valley and travel narrative The Country of Larks to the test, asking them to use their expert knowledge to help us create a perfect day out in Henley-on-Thames, where we took a cruise along the river with Hobbs of Henley. Project Manager Heather Haynes tells us more…
---
'Believe me my young friend, there is nothing – absolutely nothing – half so much worth doing as simply messing about in boats.'
So said Ratty in Kenneth Grahame's The Wind in the Willows and so might our illustrious leader, Adrian (Bradt's MD), have said when announcing the destination of our annual outing because we were going to Henley, that delightful Oxfordshire town on the River Thames. If there's one thing everyone knows about Henley, it is that it is on the river, and where there is a river there are boats. We'd be taking a river cruise.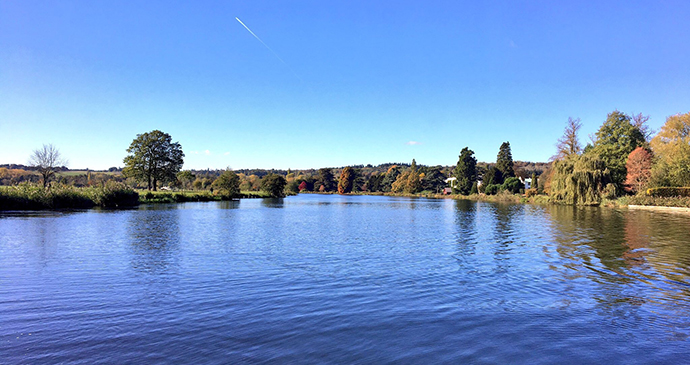 That October morning dawned sunny and chill, but at least it wasn't raining. We might yet avoid a creeping river mist. Everything depended on the vessel – would it be able to withstand a troupe of editors, designers and marketing types, all rocking the boat and throwing bread to the ducks? Speaking of ducks, blocking our entrance to the gang-plank were a pair of beautiful mallards flaunting and strutting their stuff along the riverbank as if to say 'Look at us, we're gorgeous.' They posed for our snaps then waddled off.
But I digress. Once past the ducks, we hearty landlubbers bravely boarded the Hibernia. This was no creaking rowing boat, no oily barge, and gave barely a wobble to indicate we were afloat. This was a splendid luxury cruiser, all shiny blue and red with polished glass and looking rather like a palatial floating assembly room with plush décor. Its huge windows allowed wonderful views of the rippling river, the riverbank and beyond. We settled down at once for a sparkling wine or two.
The Hibernian is one of a fleet of luxury boats owned by Hobbs of Henley, who have been boating on the Thames since 1870. This we learned as the captain steered us first upriver towards Marsh Lock and then, after performing an effortless three-point turn, downstream towards Marlow, relaying interesting snippets of commentary along the way. We cruised beneath the 18th-century Henley Bridge, famous for its five elliptical stone arches, and adjacent to this the Henley Rowing Club on the riverbank, where apparently the ex-Olympian gold medallist, Steve Redgrave, is now captain. Right on cue, a determined crew of rowers in a sleek boat actually overtook our cruiser… it turns out they were the England team practising for their next race.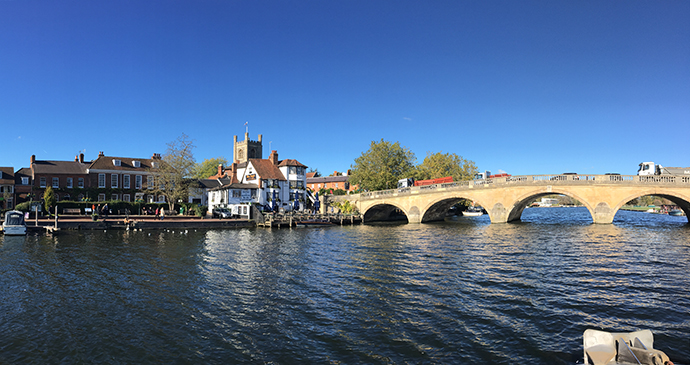 The weather could not have been better – glorious autumn sunshine – giving us the perfect view of the rolling green meadows, wooded hills covered in russet-coloured autumn leaves, and several imposing residences lining the Thames bank, so we took a vote on where our new offices should be whenever we next move premises. Yes, one particular place would do – Fawley Court, which interestingly enough was said to be the inspiration for Toad Hall in Kenneth Graham's aforementioned book. It was all looking very serendipitous. Yes, Henley would do very nicely – if is was good enough for Toad, it would be good enough for Bradt.
There was something incredibly relaxing and soothing about our boat trip. Whether it was the sun-dappled water of the Thames, the gentle motion of the cruiser, the view of the Oxfordshire countryside lazily drifting by, and perhaps the sleep-inducing effects of the wine, all thoughts of our unedited manuscripts back at the office dissipated and the words of Ratty resonated instead:
'Simpy messing…about in boats – or with boats…In or out of 'em it doesn't matter. Nothing seems to matter, that's the charm of it.'
At which point Ratty crashed his rowing boat into the bank.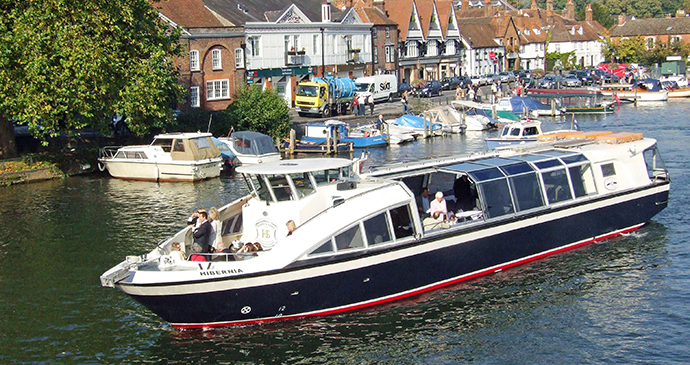 Unlike Kenneth Grahame's fictional boatsmen, the crew of the Hibernia returned us Bradt Guiders to Henley as smoothly as the trip had begun, and our daydreaming had to be packed up and put away for another time. It was back to the real world, but feeling restored, reflective and relaxed.
Hobbs of Henley have operated for nearly 150 years, and have boats of different sizes and types. They offer self-drive boats for hire, public and private cruises, and can host private and corporate events. For full details of their services, see the website.
---
More information
Want to find out more about fun days out in the Chilterns & the Thames Valley? Check out our comprehensive guide: