Written by Bradt Travel Guides
Camels are an integral part of the country's culture and history, with references to them in the Quran. Known variously as 'the ship of the desert' or 'the beast of burden', they were also traditionally sources of milk and meat. In Dhofar today, where there are about 60,000 camels according to the United Nations Food and Agricultural Organisation, this is still very much the case: meat and milk are taken from them and they are considered part of the household. Indeed, a female can produce up to 20 litres of milk per day, depending on her reproduction programme. This liquid is low-fat and reportedly good for the human stomach.
Elsewhere, select camels have bypassed their traditional use and instead been bred for racing. Much like thoroughbred horses, they have a known bloodline and are fed a healthy diet, groomed and trained, and can become great financial assets to their owners, differing considerably in appearance from their conventional cousins. A good racing camel can still fetch a price of RO300,000 or more.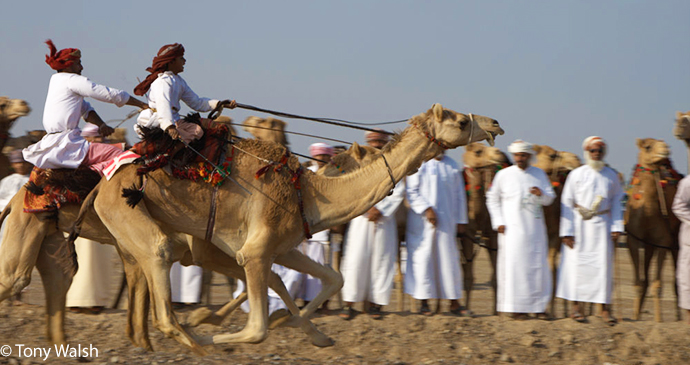 Camel racing at Bidiyyah in the Wihibah Sands © Tony Walsh
Camel racing has become a popular and commercial sport in the Arabian Peninsula. In Oman camel-racing events are held at tracks in many areas throughout the country to mark celebratory occasions such as National Day and other public holidays. It is popular in Al Batinah, Adh Dhahirah and Ash Sharqiyyah regions. The Al Felaij track in Barka holds several races each season and is probably the most accessible and best promoted camel-racing venue for people living in Muscat. Racing camels are strictly bred and trained specifically for the sport, and represent big business, competing at both national and international events, and there is even a Directorate-General of Camel Affairs within the sultan's administrative ministry. Omani thoroughbreds are well known and sought-after within the region. The training season runs from June to October and the racing season from September to March. Races are generally run 06.00–09.00 on a Wednesday and Thursday morning with free admission; a list of camel-race locations and dates is given on the website of the Ministry of Tourism.
---