Written by James Lowen
Like many readers, I imagine, butterflies featured prominently in my childhood. Small tortoiseshells lent vibrancy to our garden and 'cabbage' whites deposited eggs on our allotment cabbages. The lemon lacework of a swallowtail illuminated a family holiday in Norfolk – but somehow failed to spark wider interest.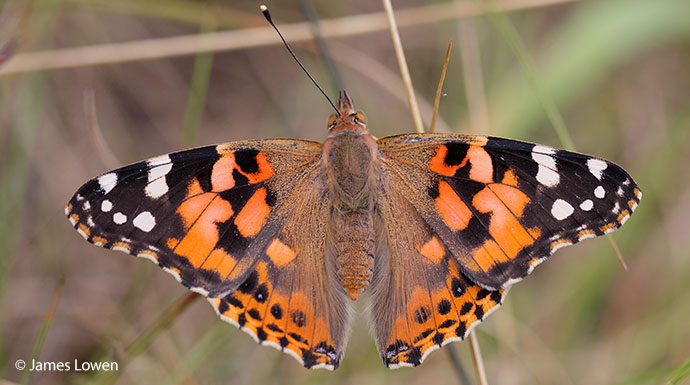 Painted lady © James Lowen
Thus I remained primarily a birdwatcher until the day when I stumbled across an unfamiliar, massive glowing ember of a butterfly. Shortly afterwards, at a wedding, an expert from Butterfly Conservation confirmed my tentative identification of large tortoiseshell, a former breeder but now only a vagrant. Within a year, I was hooked: butterflies even became the theme for my own wedding.
Seeing Britain's butterflies is both easy and tricky. A manageable number of species – 60 or so – breed in Britain. A score are widespread and common. Many others frequent well-known sites at well-defined times of the year – so you can easily organise seeing them.
The tricky bit relates to changes wrought by declining populations (largely due to habitat damage) and erratic weather conditions, meaning variable hatching dates and unnaturally brief adult lives. Warm springs typically advance flight times by weeks whilst damp summers are catastrophic for procreation.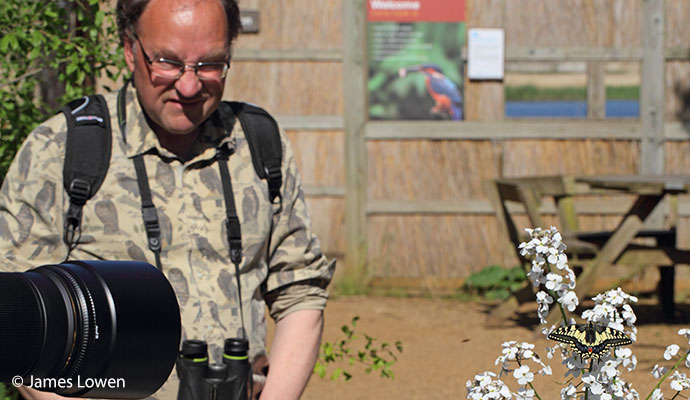 Territorial swallowtails readily boss birds away, as well as fellow butterflies © James Lowen
Should their varied beauty be insufficient to elicit your enthusiasm, pursuing butterflies demands that you visit Britain's most beautiful locations and best-preserved landscapes. Chalk downlands for Adonis blue, sheltered glens for chequered skipper, lilac heathlands for silver-studded blue, and ancient woodlands for purple emperor. What a hardship! Entrancing differences in ecology keep the fascination flowing throughout summer. Orange-tips fly through April into May, but rarely beyond. Don't even think about looking for brown hairstreaks until school is out for summer. The painted lady slurping nectar from your garden buddleia may have hatched in Africa, whereas black hairstreaks spend their entire life cycle – from egg to adult – within a few square metres. Then there is even the allure of the rare, such as the long-tailed blues that hint at colonising Britain.
Read more about Britain's colourful array of butterflies in James's new book, A Summer of British Wildlife.