Written by Katrina Manson & James Knight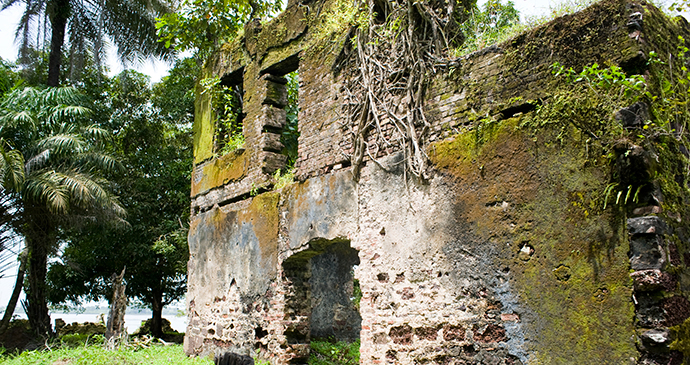 The rundown slave fort at Bunce Island is a key site for African Americans today © National Tourist Board of Sierra Leone
Vines clutch at the decaying stone bricks of the ruined fort, crevices widen, time passes. But while the plants inexorably reclaim the brickwork, Bunce Island's past – which makes it arguably the single most important former slave site for African Americans today – is going nowhere.
One Salone minister called Bunce 'a little piece of Africa that was destroyed to build America.'
In 140-odd years of operation, from 1668 until 1807, British slave traders purchased, imprisoned, and loaded up an estimated 50,000 slaves at this fort, located in the Sierra Leone River. Stolen from their villages, branded on the chest with red-hot irons, slaves from Bunce Island were primarily packed off to the fast-growing rice plantations of the New World. An estimated 15% died on the transatlantic crossing – sharks followed the boats throughout the passage to America, hopeful for their share of a wretched human cargo. One English traveller who boarded a Sierra Leone slave ship in the 1770s spoke of 'two or three slaves thrown overboard every day dying of fever flux, measles, worms all together'.
Those who made it would be parcelled up and delivered as chattals – 'a choice cargo of about 250 fine health negroes,' proclaimed one 1760 South Carolina slave auction advert of a new catch from 'Bance-Island'. Other slave ship destinations included Georgia, New York, Connecticut, Rhode Island and Massachusetts.
African American roots
Ghana's Elmina Fort, along with the 40 or so others that line the coast of west Africa from Mauritania to Benin might be better known, but most of these slave castles provided labour for central and southern America. Bunce had a particularly close, and highly localised, relationship with
North America, as a key supplier of rice planters to South Carolina and Georgia. The ancestors of those slaves form the backbone of the homogenous and close-knit Gullah community, which lives along the tropical coastline of those two US states, on the edge of creeks and mangrove swamps that resemble Sierra Leone. The community's language, also called Gullah, is very similar to Krio and includes a sprinkling of words from several Sierra Leonean languages, namely Mende and Vai.

One Salone minister called Bunce 'a little piece of Africa that was destroyed to build America.'
Visit Bunce today and it is sorely in need of preservation, with nothing in the way of explanation, but the powerful history of the island is hard to ignore. For many, the experience of stepping among its crumbling walls amid an eerie silence, having to imagine how it might have been, is harrowing enough to stay with them forever.
'I am an American … But today, I am something more … I am an African too … I feel my roots here in this continent,' said former US Secretary of State Colin Powell, after visiting in 1992.
Because of the almost exclusive role it played in supplying slaves to the US, for any American looking for a family link back to Africa there is a chance that Bunce Island and its awful past may well figure.
'Bunce is arguably the most important historic site in Africa for the United States. There are probably tens of thousands of African Americans trying to trace their roots to Sierra Leone right now,' says American historian Joseph Opala, who has worked for 30 years on the links between American descendants of slaves and their west African origins. 'Sierra Leone is the most frequent result for DNA tests in the US.'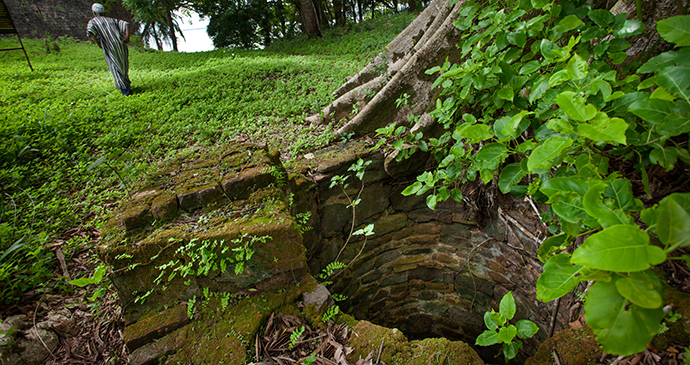 There are plans to build a museum in Freetown to explore Bunce's role in the slave trade but it is unclear when this might progress © robertonencini, Shutterstock
Conservation efforts
More than 100 years later Bunce was made an officially protected historic site – Sierra Leone's first – in 1948. While nature dilapidates the ruins, a model replica sits in the National Museum, made by Sierra Leone historian Dr M C F Easmon in the 1940s.
Decades later, when US actor Isaiah Washington (famous for his long-running role in the medical soap Grey's Anatomy) stepped onto the island, one look at the decrepit architecture made him realise the island needed to be recreated. His gift of US$25,000 is helping historian Joseph Opala and interior designer Gary Chatelain engineer a 3D computer version of how the fort looked, and what conditions were like in 1805, drawing on archaeological studies and historical documents.
'Unlike the Jewish Holocaust and other terrible crimes of the modern era, the Atlantic slave trade took place before the advent of photography, and thus we can only imagine its horrors,' says Opala. 'Our computer animation will allow us to go beyond the imagination and actually see how the Atlantic slave trade was carried out.'
The animation work was intended to be just one part of a multi-year, US$5 million effort – funded by an anonymous donor – to preserve what's left on the island and to educate visitors about Bunce's grisly past. Unfortunately, irreconcilable differences on how best to protect the site meant the relationship with the donor collapsed long before anything close to US$5 million was spent. The donation did, however, allow several studies on the stabilisation and preservation of the island and its structures to go forward. Today, priority one is to stabilise the existing ruins against erosion, as for years these have been slowly but steadily crumbling in to the lazy waters of the Sierra Leone River – a trend that seems to have accelerated in recent years. Both 2012 and 2013 saw major building collapses, and some suspect the recent dredging and increased ship traffic to the iron ore port at Pepel may be having a negative effect.
Encouragingly, the island was listed as a tentative UNESCO World Heritage Site in 2012, though the ongoing lack of funding means little has been done to act on the recommendations contained in the recently completed studies.
---
Read more about the history of Sierra Leone in our new guide: