Written by Ben le Vay
One of the best things about Britain is the way we hold on to and fight for bits of heritage that matter to individuals, whatever officialdom and modernity says, be it Morris dancing, real ale, old churches, or in this case, steam trains – officially banned on the network in 1968. Half a century later, perhaps 100 steam centres and railways are being run by tens of thousands of volunteers and excursion steam trains are running all over the place on the network. So get out there and enjoy this steam heritage – it's the world's best – sniff that wonderful, nostalgic smell and try one of these attractions.
North Norfolk Railway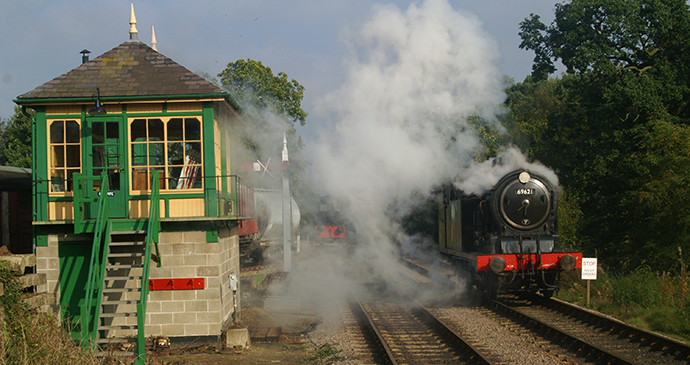 This lovely route ends at the Georgian town of Holt © David Merrett, Wikimedia Commons
This charming ramble nicknamed the 'Poppy Line' goes across the hills of north Norfolk and makes a great ride from the seaside resort of Sheringham to the inland Georgian town of Holt. This, together with the continuing Sheringham to Cromer part of the national network, is the only surviving section of the rambling cross-country Midland and Great Northern Joint Railway (initials M&GN, which was aptly satirised by locals as standing for Muddle & Go Nowhere!).
Bluebell Railway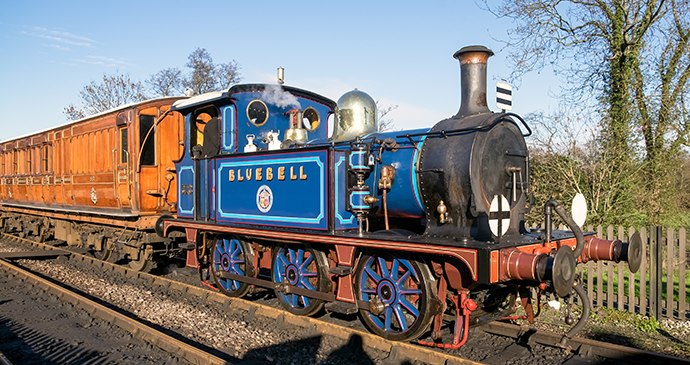 This is one of the country's oldest steam railways © Philip Bird LRPS CPAGB, Shutterstock
One of the oldest and prettiest of Britain's preserved steam lines, this traverses just lovely Sussex countryside, excellent not just during the bluebell season. The station at Horsted Keynes is particularly well kept and recreated as in its heyday. The collection of rolling stock is superb – you'll recognise at least one loco from the Rev Awdry's Thomas the Tank engine stories. And since it fought the reconnect to the network, you can reach the north terminus, East Grinstead, from London Victoria.
Settle & Carlisle Line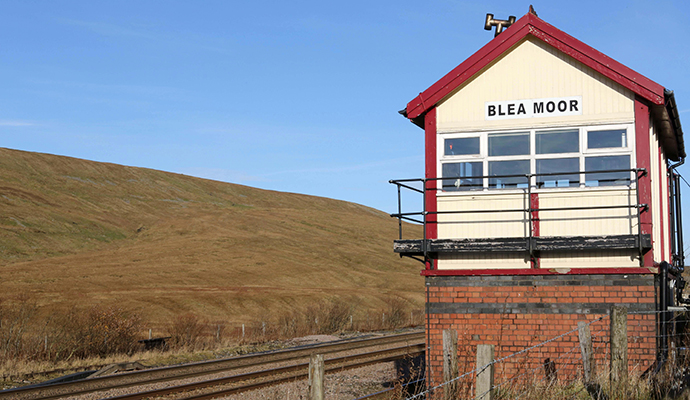 Blea Moor signal box is just one of the highlights of this railway lover's route © northallertonman, Shutterstock
This magnificent mountainous marvellous mainline is not a museum or a steam centre but a working part of the network, saved in the 1980s from officials intent on running it down to closure by a global surge of support that saw its ridership rise perhaps ten-fold. A wonderful set of restored stations such as Settle and Appleby (and England's highest mainline station at Dent) accompany grand views not surpassed elsewhere in England, including from the famed Ribblehead Viaduct (in good weather, it's really worth getting off and walking north alongside this to also see Blea Moor Tunnel mouth from a strange footbridge that is also an aqueduct). You can visit with either one of the regular steam excursions run by various operators or just on a normal ticket for the regular daily trains.
North Yorkshire Moors Railway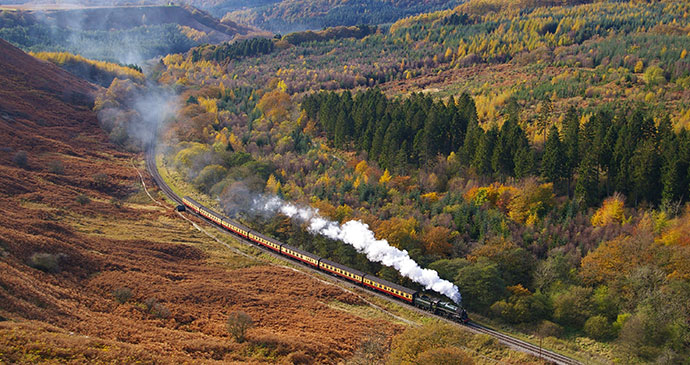 This gorgeous route traverses some of the national park's best scenery © North York Moors Railway
This superb 24-mile route through the glorious sweeping landscape of the North York Moors National Park has starred many times in the popular ITV series Heartbeat (Goathland played Aidensfield in the drama), and more recently in the movie-length version of Downtown Abbey. At Grosmont it forms a useful junction with the national network's Esk Valley Line from Middlesbrough, and brilliantly some steam services run down the few miles on that line to the terminus in the intriguing fishing port of Whitby. What you can say about Whitby is that Captain Cook left, monks and Dracula (in fiction) arrived and steam stayed.
Bodmin & Wenford Railway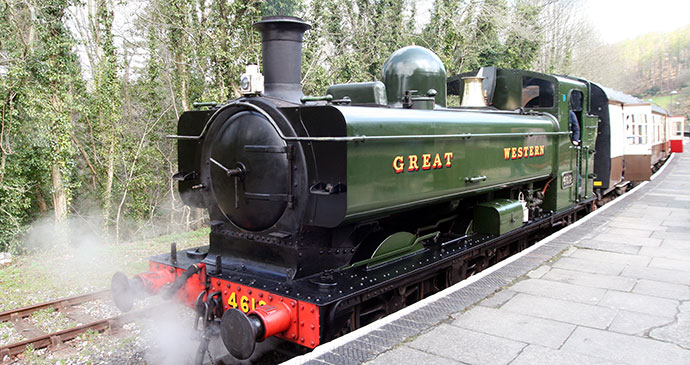 This line was rescued from dereliction in 1986 by a group of local enthusiasts © Al Pidgen, Shutterstock
Instead of wittering on about how many pasty-powered branch lines in Devon and Cornwall have been lost, lovers of rural railways should be yelling from the rooftops how many truly great ones have been saved. There are eight full-time pukkah ones run by and connecting with the main line. Each is delightfully different and filled with interest and, at times, breathtaking beauty. There's one part-time route to Okehampton, as well as three steam lines connecting well with the main line (and three that don't). It's a perfectly possibility-packed peninsula. This little railway is one of the steam outfits, and connects with the main line at Bodmin Parkway.
Swanage Railway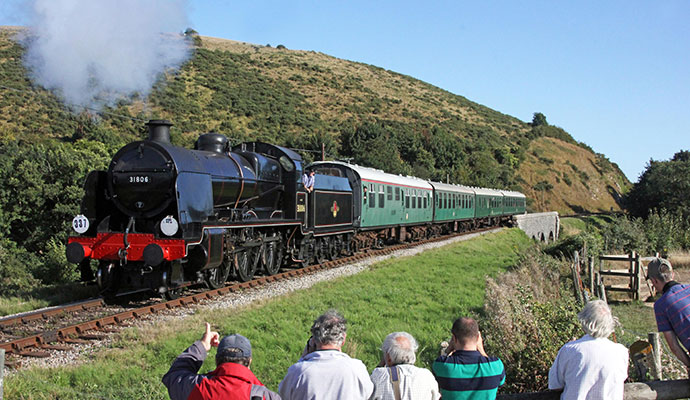 You don't need to be a train buff to be charmed by the lovingly restored steam and diesel trains of the Swanage Railway © Swanage Railway
Is there anything more charming than a veteran steam loco pulling a vintage train past the ruins of Corfe Castle on the Isle of Purbeck? It's not really an isle, one should add quickly, but a picturesque peninsula of Dorset. This railway, like several others, fought tenaciously to get reconnected to the network, but it now runs north from the seaside town of Swanage to the main line at Wareham, easily reached from London Waterloo on the Weymouth Line. But check your times – some trains start at Norden, short of Wareham, which is in my view a great shame after all that effort connecting back to the network. On the plus side, summer Saturdays have seen timetabled mainline trains running through to Corfe Castle on the Swanage Railway.
Ffestiniog Railway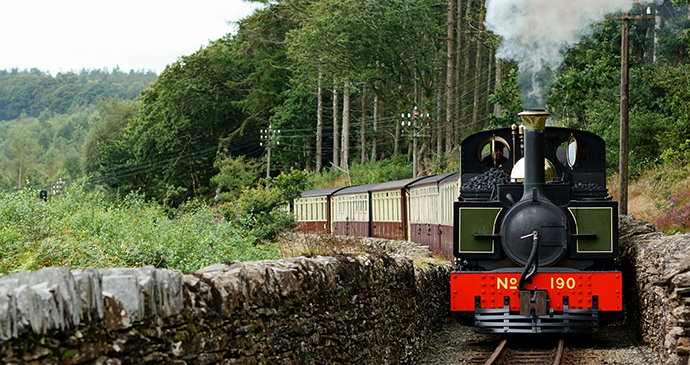 This is the only railway between north and mid Wales without going into England © David Trimmer, Flickr
This dramatic and beautiful narrow-gauge line in Snowdonia is so well run it forms part of the national network in terms of timetabling and ticketing. It is the only railway you can use to get between north and mid Wales without going round through England, starting at either Llandudno or Aberystwyth, and what a wonderful experience that whole trip is! The route contains many gems including a rare rail spiral where a railway trying to gain height corkscrews round and over itself – something you will see at Darjeeling in the Himalayas, but in Britain, only here. Its history it bound up with slate – indeed they used to run unpowered 'gravity trains' down from the mountains to the wharf at the bottom with chaps riding the wagons to control the brakes and stop it becoming an uncontrolled runaway, blowing horns to co-ordinate the braking. Must have been dramatic! Connects with the Welsh Highland Railway to form about 40 miles of mountain narrow-gauge running unrivalled.
National Railway Museum, York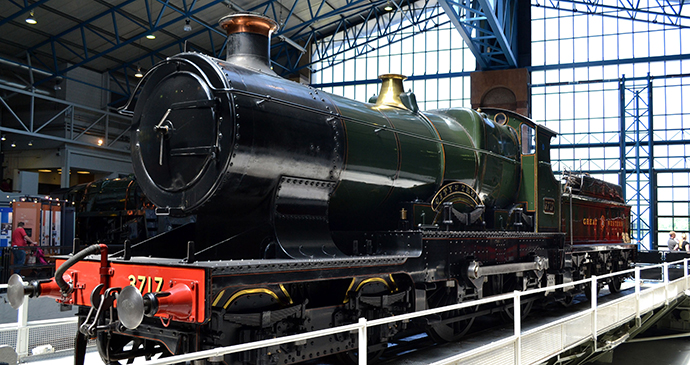 This is undoubtedly the best railway museum in the world © Juan Enrique Gilardi, Flickr
Okay, so technically this isn't a steam railway in itself – but it is undoubtedly the best railway museum in the world, and it's free! An unrivalled collection including Stephenson's Rocket, which started it all, and Mallard, the world steam speed record holder – 3 July 1938 was a date burned into every railwayman's memory, when this streamlined greyhound of a loco raced south from here towards King's Cross and gained a 126mph record that will surely never be broken. Talking about streamlining, don't miss the exquisite Duchess of Hamilton – just look at those lovely lines (and yes, I am talking about the loco of that name, not a real Duchess!) – as well as loads of detailed exhibits and things for sale such as superb railway posters. There's also a terrific outstation at Shildon with more dramatic rolling stock including a royal train and a wooden snow plough.
Didcot Railway Centre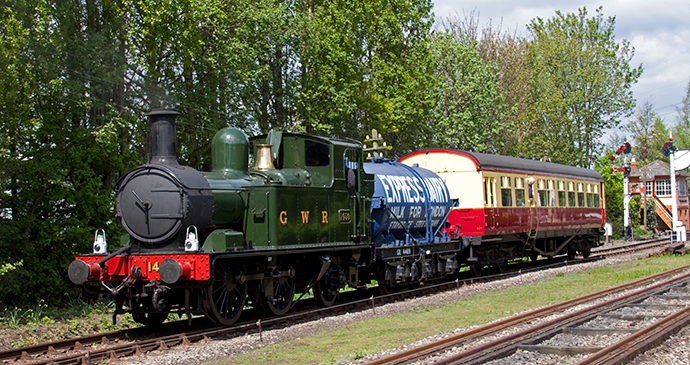 Didcot is one of the country's best steam collections © Tony Hisgett, Wikimedia Commons
This is a fantastic collection of rolling stock and relics, mostly linked to the original Great Western Railway and set appropriately within the huge railway triangle where the Oxford Line branches off from the main line from Paddington to Bristol at Didcot. See the only piece of Brunel's amazing Atmospheric Railway in the world, and a broad-gauge loco to show you his rather astonishing preferred track size. You can also enjoy occasional short steam rides within the site.
East Anglian Railway Museum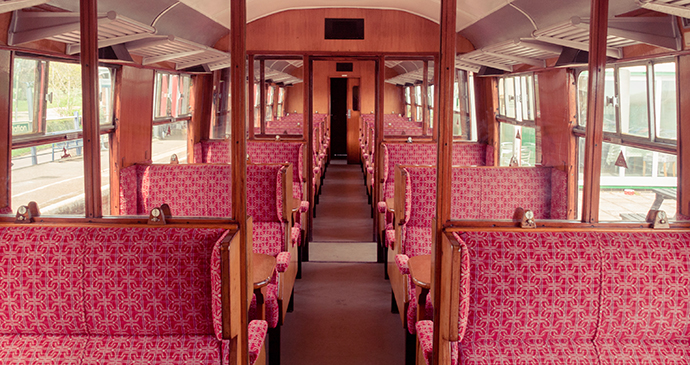 This small museum is a hidden treasure © centralniak, Flickr
Often overlooked, this enthusiast-run little railway museum at Chappel & Wakes Colne station in Essex is at one end of a quite superb viaduct on its hourly service branch line. Family-friendly with things for children to do and special events such as Thomas the Tank engine days. It's on the Gainsborough Line, a branch on the Great Eastern Main Line to Sudbury, and is easily reached from London Liverpool Street in about an hour if you change at Marks Tey.
---
Discover more of Britain's railways in Ben's comprehensive book: