Written by Bradt Travel Guides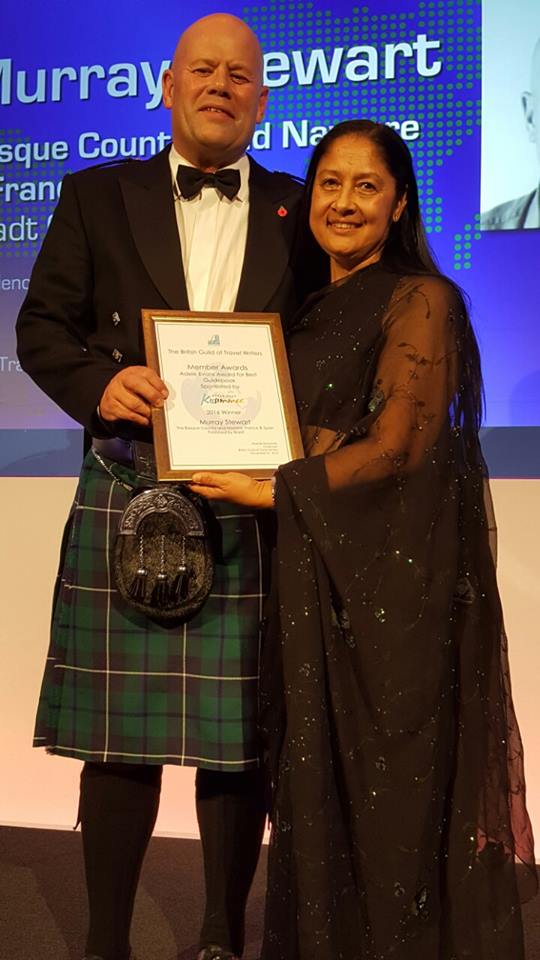 At this year's British Guild of Travel Writers' awards evening a Bradt author scooped up the Adele Evans Award for Best Guidebook for the second year in a row. The prize went to Murray Stewart for his The Basque Country and Navarre guide. Elsewhere Alpe-Adria Trail author Rudolf Abraham won double, picking up the awards for Best UK Feature over 850 words and Travel Photographer of the Year. Wins at this annual awards evening, where prizes are awarded for the best writing, photography and broadcast work, rounds off a trio of travel publishing prizes for Bradt, in what has been an excellent year for the company.
This award comes just a couple of weeks after James Lowen beat off stiff competition to win the Travel Media Awards' Travel Guidebook of the Year. James' book A Summer of British Wildlife, released in March 2016, is the only book of its type to suggest a wildlife-watching experience for every single summer day, and follows on from the runaway success of his previous title 52 Wildlife Weekends.
Early this year Bradt scooped the Gold Award in the Top Guidebook Series category at the Wanderlust Travel Awards. The award was based on a survey of Wanderlust readers, who were asked to rate their favourite guidebook series. Bradt achieved an average reader rating of nearly 82%, beating DK Eyewitness and Lonely Planet into second and third places respectively.
Bradt's Managing Director, Adrian Phillips, puts much of this success down to the quality of our guides and the colourful nature of our list. "Bradt has a reputation for getting there first – and I believe we're the first to win the UK's three major guidebook awards in the same year! It's a tremendous achievement, and reward for the dedication and passion of the team. I'm so proud of them all, from authors and project managers to cartographers and proofreaders. We'll continue to work tirelessly to produce pioneering guides loved by readers and awards judges alike."