Written by Bradt Travel Guides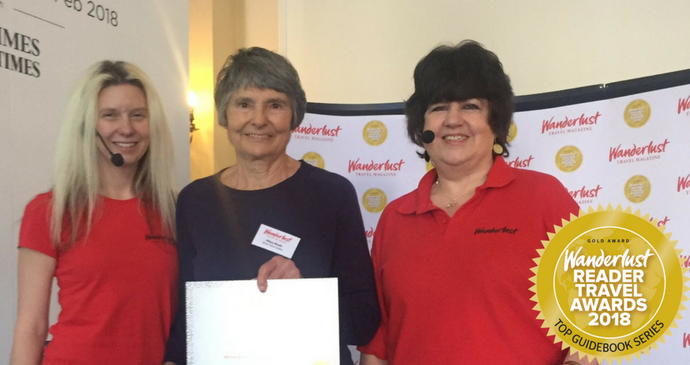 Bradt scooped the Gold Award at this year's Wanderlust Travel Awards in the Top Guidebook Series category. The award was based on a survey of Wanderlust Magazine readers, who were asked to rate their favourite guidebook series. Bradt achieved an average reader rating of 84%, beating DK Eyewitness and Cicerone into second and third places respectively.
Here's what our MD Adrian Phillips had to say about our win:
"The Bradt team feels tremendously honoured to have been voted top guidebook series for the second time in three years. It means all the more because Wanderlust readers are seriously committed to travel – when it comes to guidebooks, they know their onions! We are one of the very few independent travel publishers left out there, and we strive to stay true to the principles on which Hilary Bradt founded the company 44 years ago. Our guides are comprehensive, our authors are hugely knowledgeable and deeply passionate, and everyone involved works their socks off to bring you the most useful and entertaining books we can.
We believe our 2018 titles are as colourful and ambitious as ever. We'll continue to cover places far and wide, from the North York Moors to North Korea, from Kazakhstan to Ethiopia. Long out of print, our Falkland Islands guide makes a welcome return, thoroughly updated by the original author and still unique to Bradt. We're further expanding our in-depth coverage of Europe's regions with guides to The Vendee and Emilia Romagna, again the only ones on the market. Our revised Malta guide features a chapter on Valletta, which is 2018 Capital of Culture, while we've just published an extensively overhauled edition of Sri Lanka – a destination on everyone's 2018 'hotlist' – that is without a doubt the most thorough and up-to-date guide to the country available. Beyond that, new to our series of 'activity' guides are 52 European Wildlife Weekends (a year's worth of wildlife-watching breaks), Paddling Britain (evocative places to explore by SUP or kayak) and The Wilderness Cookbook (offering delicious, practical recipes for wild campers). And as we draw the maps and check the proofs, we'll do so beneath the Wanderlust Awards trophy standing proudly on our office mantelpiece!"
For further details about Bradt's upcoming titles you can take a look at our catalogue here, or contact Bradt's Marketing Executive Holly Parsons (holly.parsons@bradtguides.com). Full results of the Wanderlust Travel Awards are available to view here.