Written by Bradt Travel Guides
Oman sits at the crossroads of three continents: Europe, Africa and Asia, and is therefore well placed along bird migratory routes, which makes it an excellent location for seeing transitory species as well as interesting resident and wintering birds. The best times to see the migrating species are from late August to November and from February to May, with December through to February being the best for winter birds and also the coolest time of the year. Most of the indigenous species can be seen in the winter, although some breeding species do not arrive until May, particularly in Dhofar. There are good birding sites in every region of the country. The coastal khawrs (lagoons) offer perfect spots for wintering and migrating waterbirds, including ducks, waders and terns. The Ad Dimaniyyat Islands hold substantial numbers of breeding bridled and white-cheeked terns, with small numbers of common noddies (Anous stolidus), ospreys (Pandion haliaetus) and western reef herons (Egretta gularis).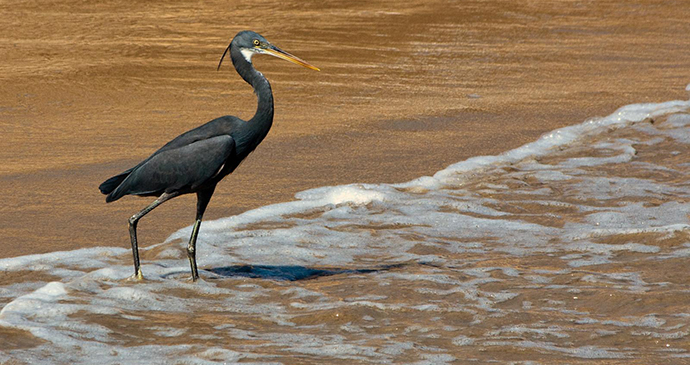 Western Reef Heron © JB London, Wikimedia Commons
The As Sawadi Islands and Al Fahl Island (about 4km off Ras Al Hamra, in the Capital Area) hold breeding sooty falcons (Falco concolor), with the latter site also having nesting red-billed tropicbirds (Phaethon aethereus); boat trips around Al Fahl Island can easily be arranged from Muscat (page 136). Al Ansab Lagoons (about 30km west of Muscat) and Al Qurum Natural Park in Muscat itself are good places to see typical Omani breeding species such as grey francolin, red-wattled plover, laughing dove (Spilopelia senegalensis), little green bee-eater (Merops orientalis), yellow-vented bulbul (Pycnonotus xanthopygos), Arabian babbler (Turdoides squamiceps), purple sunbird and Indian silverbill. Bar Al Hikman and Masirah Island (the latter is accessible by ferry only) hold perhaps a million wintering waterbirds, mainly herons, egrets, waders and gulls. Exciting species such as crab plover (Dromas ardeola) and great knot (Calidris tenuirostris) are present in winter, the latter found south of the Shannah ferry terminal for Masirah Island when the tide is rising. A good area to watch at high tide is Filim, 19km south of the town of Al Hij, where great white egrets (Ardea alba), greater flamingos (Phoenicopterus roseus), crab plover, terek sandpiper (Xenus cinereus), broad-billed sandpiper (Limicola falcinellus) and slenderbilled gulls (Chroicocephalus genei) can be seen.
Other locations offering good birdwatching opportunities include Musandam, where breeding Lichtenstein's sandgrouse (Pterocles lichtensteinii), chukar (Alectoris chukar) and Hume's wheatear (Oenanthe albonigra), and wintering eastern pied wheatear, redtailed wheatear (Oenanthe chrysopygia), Eversmann's redstart (Phoenicurus erythronotus) and plain leaf warbler (Phylloscopus neglectus) can be seen. The desert oasis and resthouse of Qatbit on the desert road between Muscat and Salalah is an excellent place to stay over to see desert species such as crowned (Pterocles coronatus) and spotted sandgrouse (Pterocles senegallus) and greater hoopoe lark (Alaemon alaudipes). A series of khawrs along the Dhofar coast each side of Salalah are also excellent sites for a range of waterbirds throughout the year, particularly Khawr Taqa and Khawr Rawri (sometimes spelt Rouri). For Arabian endemics and Dhofar specialities, the wooden ravines inland of the coast are the places to visit in the spring, particularly Ayn Hamran just 22km from Salalah. Birdwatching excursions can easily be arranged through many of the tour operators in Muscat (pages 83–5). They cost around RO30 per person for a half-day tour. Several books have been published by the authors Hanne and Jens Eriksen, who operate birding tours in Muscat through some of the tour operators listed within this book.
---