Returning to the Big Cat Festival for a second year, Paul Goldstein will be regaling us with tales of his experiences with big cats and the ridiculous frustrations and pitfalls of trying to get THAT image. He'll also be having a blast with his friend Chris Packham, as they judge each other's best Big Cat pics, as well as your competition images. Fancy entering? You'll need to buy a ticket!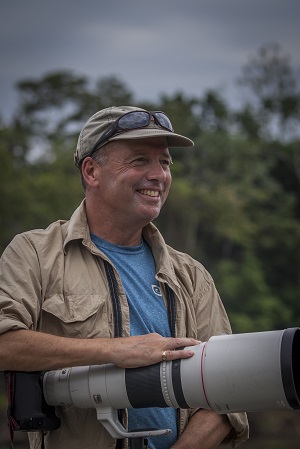 Over 20 years in travel industry, Paul has gained a reputation as a passionate and forthright commentator on all things related to travel. His real expertise however lies in wildlife photography, Africa and the Polar regions.
As a presenter, guide for Exodus Travels, safari camp owner and photographer, Paul has few equals. If you can catch him while he is standing still, you can expect advice that is strong on opinion, but backed by real experience.
He is happiest in the priceless Conservancies of the Masai Mara or among six million penguins in South Georgia. Joining him to judge the Big Cat Festival Photography Competition is his good friend Chris Packham.
This is your second time with us at the Festival – we're curious to know about your big cat history?
A leopard sighting 35 years ago lit a slow burning fuse which, over the years, has turned into an incendiary obsession. Big cats fascinate me, frustrate me and fuel me. Photographing them has become a mission, but just being in their presence, often at some cost, is normally enough. I am fuelled by rage that so many of them are still poached and I vow never to rest until their numbers improve.
During your travels, have you ever interfered in any way to protect a cat?
Yes, several times and will continue to do so too. It makes me incandescent when pious broadcasters bray that this must never happen. 99% of these cats' problems are down to humans so if we can redress that balance at all we should do so. I have never done this to the detriment of another animal, but moving a vehicle or making some noise to stop a spotted cat joining the endangered pile of carcasses in the sky will always help. It is these marquee species that bring tourists to these areas, without them the poachers will take over and we lose everything. Anyone want to argue with me on this one? Bring it on!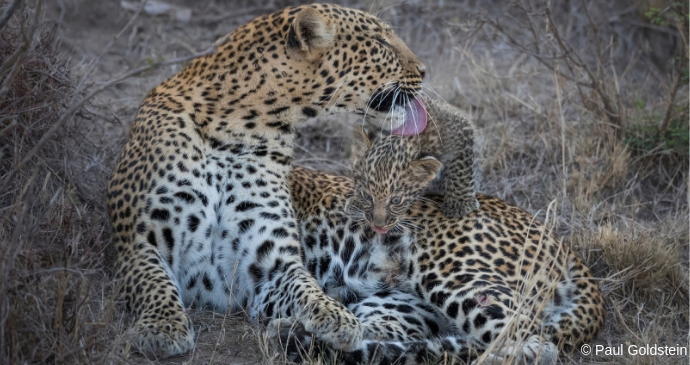 Paul will be sharing some of his favourite Big Cat images during his talk with Chris Packham, and judging yours too. © Paul Goldstein
We're looking forward to hearing your stories with Chris Packham, but give us a sneak peek – what's one of your favourite big cat moments?
Storm, long day of nothing…Then, three hundred metres from camp (Kicheche Mara Camp), I spot a single leopard in the rain up on a narrow branch. Light comes through just before sunset, as does a rainbow, bisecting the cat on its arboreal perch. It will never happen again. This was ten years ago almost to the day, and I still shake when I think about it.
---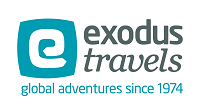 The team at Exodus love adventure travel and always have. Since taking a group on a trip to the Himalaya in1974 they've expanded to offer more than 500 itineraries across more than 90 countries, including some brilliant Big Cat destinations. It's no wonder we wanted to partner with them on our festival!
---
For more information on the Big Cat Festival, and to book tickets, click here.