Written by Bradt Travel Guides
Although Liguria's fantastic pesto attracts a lot of coverage – and rightly so – this sometimes detracts from the credit that its other specialities are due. With a healthy diet centred on vegetables, fruit, olive oil, pasta, fish, and wild herbs found on the Ligurian hillside, the region is teeming with culinary complexity. 'It was a cuisine made of labour and patience and the love of aromatic herbs', wrote nostalgic regional writer Vittorio G Rossi. 'It was a cuisine of lean folk who lived on lean land – sea cliffs and terraces hewn by hand from solid stone – and lean olive trees.' Having eaten your fill of pasta-based dishes smothered in pesto – an unavoidable delight of most trips to the region – be sure to cast your eyes over the other wonders of Liguria's distinctive regional cuisine.
Focaccia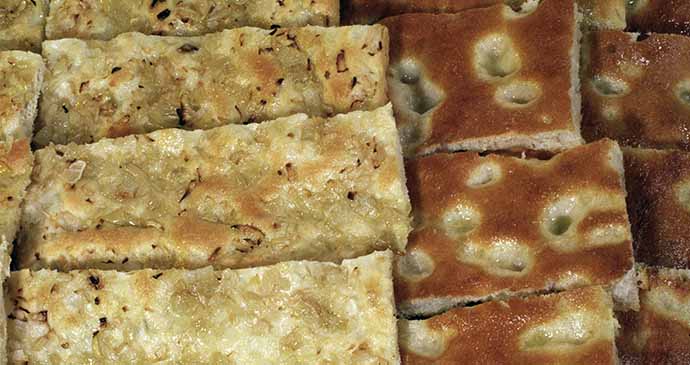 Focaccia is a staple for Ligurians © Photo Archive Regional Agency in Liguria
Ligurians are great grazers and, living up to their hard-working reputation, often eating on the hoof. It means you can get some really good food on a budget. There are shops selling focaccia on every street corner. The ancient Romans ate panis focacius, a flat bread that was baked in the ashes of the fireplace and took its name from the Latin focus, meaning 'centre', but also 'fireplace'. Focaccia makes the perfect speedy simple picnic and is one of the great treats of a trip to Liguria.
Torta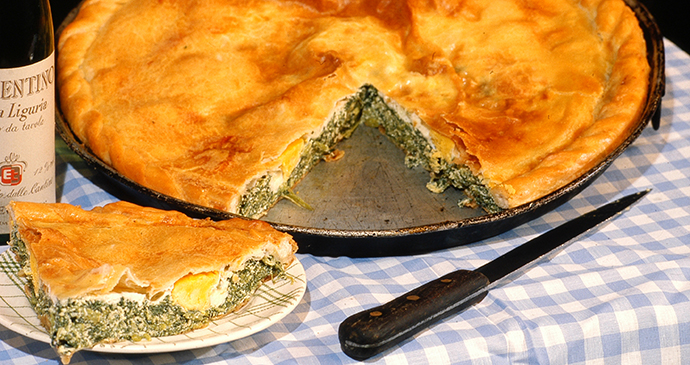 Originally an Easter dish, Genoese torta pasqualina is now popular throughout the year © Photo Archive Regional Agency in Liguria
Pies play an important part on the Ligurian table. Here they are called torta, although in the rest of Italy that is a word used to describe a cake. A classic Easter dish, now sold all year round, is the Genoese torta pasqualina. The earliest records of it date back to the start of the 16th century. Thirty-three sheets of paper-thin pastry are overlapped in remembrance of Jesus's age when he was crucified. It's filled with whole hard-boiled eggs and spinach. A typical family meal is torta verde, a spinach pie made from a variety of herbs mixed with Parmesan and prescinseua cheese. Pumpkin pie, torta di zucca, and artichoke pies, torta di carciofi, or articiocche in dialect, are made all over Liguria, as is torta de gee, which is dialect for chard.
Olives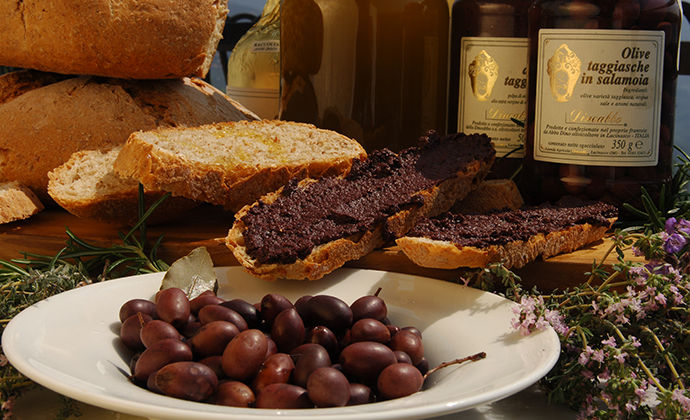 Olives have long been the cornerstone of Ligurian cuisine © Photo Archive Regional Agency in Liguria
Extra virgin olive oil has sat at the heart of Ligurian cuisine since ancient times and is the key ingredient in the best-known Ligurian delicacies such as focaccia, farinata and pesto. The most famous varieties are made from taggiasca, pignola, lavagnina and razzola olives and since the 16th century it has been an important local industry, especially in the hills and mountains behind Imperia. Here the olive oil, thanks to the more temperate climate, is more delicate and fruitier than that produced in other parts of Liguria. Taggiasca olives are a tasty aperitif and are used to make the local olive paste.
Pastries, biscuits, and cake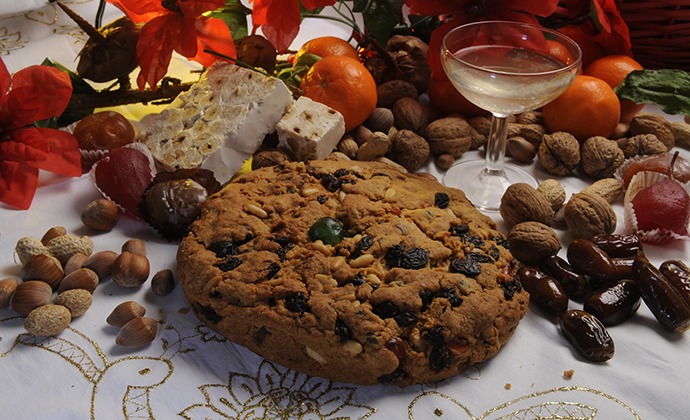 Pandolce is another sweet treat that is popular amongst the Genoese © Photo Archive Regional Agency in Liguria
Ligurians have a sweet tooth and there are pastry and biscuit shops, many of them well over a hundred years old, in every town. A lot of fun is to be had if you make visiting cake shops part of your itinerary. As with everything in Liguria, regional specialities abound. Canestrelli, crumbly, flat, round, shortbread biscuits with a hole in the middle, are now found all over Liguria but originally hail from the Genoese hinterland. They are popular for breakfast or are served after a meal with sweet white wine. Right across Liguria honey is produced and flavoured with flower petals.
Wine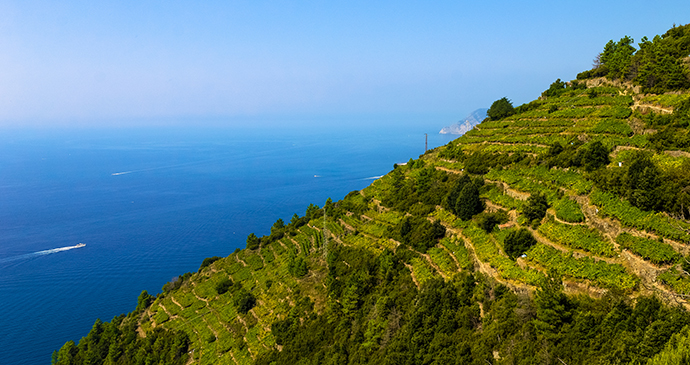 The Cinque Terre is littered with scenic vineyards © Zharov Patel, Shutterstock
Despite its quality, Liguria doesn't produce vast quantities of wine, but what it does produce certainly deserves to be acknowledged. Try Rossese, a ruby-coloured red that turns a garnet colour as it ages and which complements meat and game dishes. It comes from the vineyards around the ancient village of Dolceacqua near Ventimiglia. The vines grown in the high Arrosica Valley behind Imperia produce Ormeasco, another red wine which comes from the vineyards around the dubiously named Pornassio, which has the same connotations in Italian. This local wine goes under the name of nearby Ormea. Closer to the coast Pontedassio, San Lorenzo and Diano Castello are the home of Vermentino, a fresh white wine that is a good accompaniment to fish and seafood appetisers. The Vermentino produced around Sestri Levante is also good. Pigato from the Albenga Valley, notably the tiny villages of Salea, Ortovero and Ranzo, is a lightly fragrant straw-yellow white wine with a bitter almond taste. In the vineyards around Finale they produce a particular, fresh and slightly acid white wine, Lumassina, also called Buzzetto, which in dialect means 'still unripe'; so-called as it is made with grapes that ripen late. Close to Genoa the local wine is from the Val Polcevera. It is a white wine which is both still and sparkling.
A word of warning before you reach for a bottle. Some red wines are fizzy and need to be served cold. Most of these wines aren't especially tasty. Look out for the key word frizzante on the label.
---
For more on Ligurian food, take a look at our award-winning Liguria guide, the only standalone guide to the region.