Written by Laurence Mitchell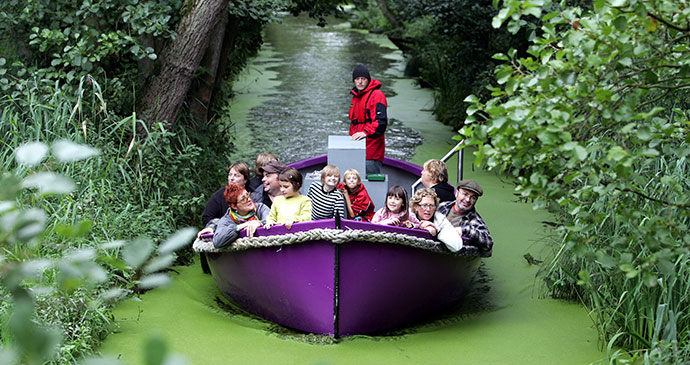 © Visit Norfolk
A little way along the A1062 Horning Road, BeWILDerwood describes itself as a 'curious treehouse adventure park'. Certainly, it's designed to exercise and stimulate the mind as much as the body. It's a magical place for children – forest folk like Mildred, the vegetarian Crocklebog who lives in Scary Lake, and the Twiggles, litter-hating goblin-like figures, are BeWILDerwood residents, as is a giant spider called Thornyclod.
BeWILDerwood's environmental pedigree is certainly impressive too. The treehouses, ropewalks and boardwalks are all built from sustainable wood, while the 50 acres of marshland and woodland that make up the site are entirely pesticide-free, guaranteeing that no harmful chemicals leak into the broads.
If that were not enough, some 14,000 broad-leaved trees have been planted since the park's creation and the food on site is mainly locally sourced and organic. BeWILDerwood won the British Guild of Travel Writers award for best new UK tourism project in 2008; as Jane Anderson, who nominated the park for the award, attests it 'harks back to a pre-playstation, pre-mobile, pre-iPod era' even if its creator Tom Blofield does admit to having been partly inspired by the1990s computer game Myst.
BeWILDerwood is open year-round and those under 92cm/36 inches tall go free. Bikes are available to rent at the Norfolk Broads Cycling Centre in the car park (07887 480331; www.norfolkbroadscycling.co.uk) which also provides useful free cycling maps.