Written by Antony Mason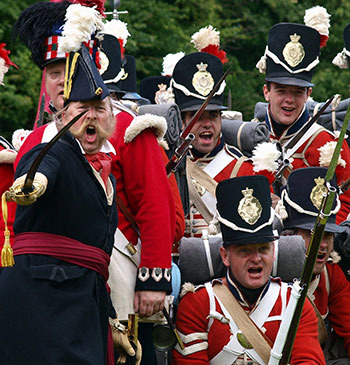 Every year, and especially every five years, hundreds of dedicated re-enactors from all over Europe come to Waterloo to recreate the battle on the weekend closest to 18 June.
All volunteers, they are serious amateur historians, who take great pride in the historical accuracy of their uniforms, their weapons and the rest of the kit – which they have to acquire and pay for themselves. Most are affiliated to organisations such as the Napoleonic Association. They attend training days beforehand, and practise firing their flintlock muskets with real gunpowder (but no musket balls), charging on horseback with swords drawn and firing artillery, each according to his chosen station. They bivouac in all weathers in authentic style, cooking on open fires. Some act as surgeons.
They are not only men: women recreate the roles of officers' wives, cooks, laundresses, seamstresses and general camp-followers (this is the subject of some controversy). They all live the role, in character. It is serious business – but fun, and deeply fulfilling to the participants who devote so much time and money to their hobby.
The Battle of Waterloo is an especially popular re-enactment, taking place on or around 18 June, and the reenactors turn out in big numbers. For the bicentenary in 2015: 5,000 re-enactors, 300 horses, 100 cannon – a small fraction of the original numbers, of course, but the world's biggest ever re-enactment.
(Photo: © Joseph Jeanmart/Whybelgium.co.uk)
To buy our Waterloo guide (also available as an eBook) now, click here: