Written by Laurence Phillips
France loves a pun. Whilst Brits may reserve our wincing way with words for hairdressing salons (A Cut Above, Curl Up and Dye and the frankly self-defeating Hair Today), the French are willing to set up an entire arts season based on tortuous wordplay.
In Lille, two pun-induced soccer-themed events are marking time until the UEFA matches take over the entire country. Several games scheduled for Lille's own stadium and at nearby Lens make these the closest venues to the UK, and just 80 minutes from St Pancras. But you don't have to be football crazy to join the celebrations. This may be sport, but in Lille that is no bar to an arty party.
For me the best incarnation of a pun is to be found at the Wazemmes Maison Folie (see page 191 of the book) in a deliciously inventive and challenging free exhibition Footorama. Host to the gloriously dubbed BarbieFoot – a broad-grin-inducing joyous treat, neatly inverting the concept of France's favourite boys' toy.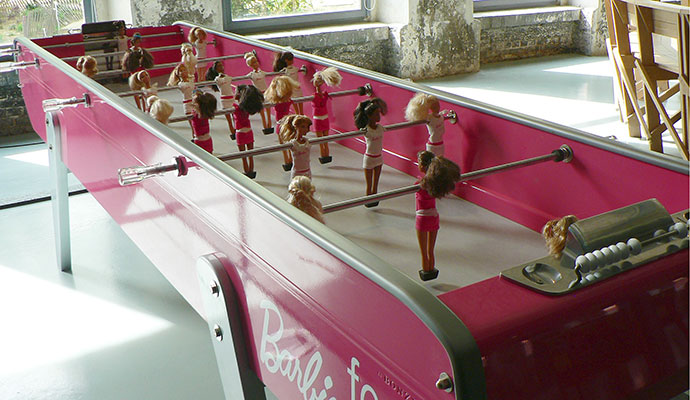 © Laurence Phillips
Table football, known as babyfoot, has been a staple fixture in French bars for the best part of a century, since local firm Stella started manufacturing in nearby Tourcoing in 1928. The Pimp Your Baby gallery of the exhibition is filled with customised babyfoot tables reinterpreted for today. Amongst some fabulous gender stereotype challenges is Chloe Ruchon's flamingo-pink table where the bars of football players have been replaced by big-haired, nipped-waisted, flashy-lashed Barbie dolls.
Upstairs, two other exhibits carry on the theme, with Stud XI, London-based Columbian artist Freddy Contreras' tableau of high-fashion high-heeled shoes, complete with socker-studs hanging on locker room hooks, a vaguely disturbing mixture confronting not only sporting sexism, but an oppressive attitude to women in a lads vs WAGs culture. Not to mention the hand-stitched football by Costa Rican Pricilla Monge that upon closer inspection appear to have been made from women's sanitary products.
The feminist slant is not the only angle to the show. A superb interactive alternative version of football, played sitting down, is original and great family fun, and there is a dark room where you stand amid speakers belting out the sounds of the crowd at a local match, and the game plays out in your imagination. Within minutes, you are engulfed in a wave of camaraderie. Upstairs installations include witty and inventive creations based on insults to referees and between fans, and a vast re-imagining of the cult of collectable stickers and cards.
Overlapping with the Wazemmes event is a major bonus show from the team behind Lille3000, the biennial international arts festival that most recently concluded this January. Now previewing and opening on 3 June until 6 November, Foot Foraine (a pun on the French for summer funfair) takes over the Gare Saint Sauveur (closed Mon & Tue, admission free), the railway station and goods yard recently commandeered as Lille's largest arts and community space.
Promising a summer of soccer-themed exhibitions, photography, films, contemporary art and even gastronomy, alongside the inevitable babyfoot tournament, it will certainly be worth your while checking current programming online before your next visit to Lille.
Footorama continues until 26 June with a programme of events at various venues around the quarter. Closed Mon & Tue; admission free. Metro: Wazemmes.