Written by John Rendall
In this extract from Christian The Lion: The Illustrated Legacy, Christian is reunited with his former owners in Africa.
---
George showed us where to wait, then he went to fetch the lions. This marked a change in the usual routine: George did not generally take visitors to see his lions; they had to wait until the lions wandered into camp. This time, however, he would lead Christian and the two lionesses back towards camp and then over the brow of a rock, from where they could see me, Ace and cameraman Simon Trevor, who had come to film what happened.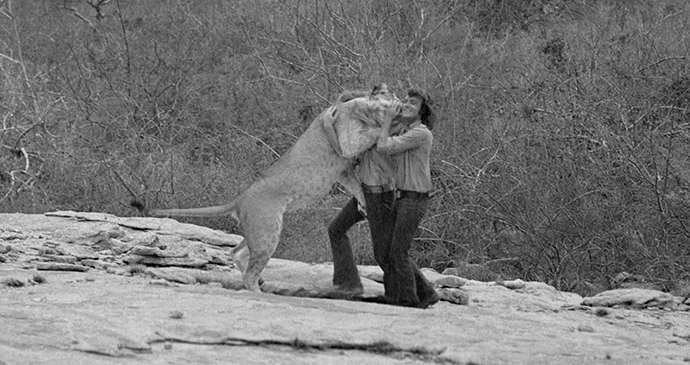 Christian is reunited with John and Ace, in a moment that was to captivate millions of viewers on YouTube 27 years later © Simon Trevor
As soon as Christian crested the brow of the hill he stopped and stared at us. Then, after a few minutes, he started to walk slowly down the hill towards us, staring the whole time. He looked superb: taller, leaner and less thickly coated than we'd known him, but strong and confident.You could see him wondering who we were, and his body language was self-assured as approached. He was just making sure it was us. If he had fallen into stalking mode, flattened to the ground and creeping forward, it would have felt very different.
'Call him,' George said, unable to wait any longer. And that did it: the moment he heard our voices Christian began to run down the rocky hillside, grunting and moaning with excitement. A three-hundred-pound lion was now bounding towards us at about twenty miles per hour mph; we braced ourselves for the impact. He jumped up to greet us, rubbing our heads, moaning with pleasure and running backwards and forwards between us as he tried to greet us both at the same time.
Not for a moment did either of us think we were in danger, even when the two lionesses arrived to greet us. Mona and Lisa had never really been habituated to humans and had only ever appeared at camp with Christian – yet now, emboldened by Christian's behavior, they completely accepted us.Today I look at the photographs of my bending down and rubbing heads with Mona and realise how overwhelmed I was by the emotion of the occasion. The gulf between humans and lions had been blurred by sheer euphoria.
---
To learn more about Christian's life, take a look at his illustrated legacy.