Written by John Rendall
In this extract from Christian The Lion: The Illustrated Legacy, John Rendall talks about everyday life with a lion at home.
---
Christian was always very calm and well behaved when he was in the flat above Sophistocat. Instead of racing around and chewing anything that took his fancy, he was content to wander from room to room investigating open cupboards and drawers, and occasionally having a drink in the bathroom.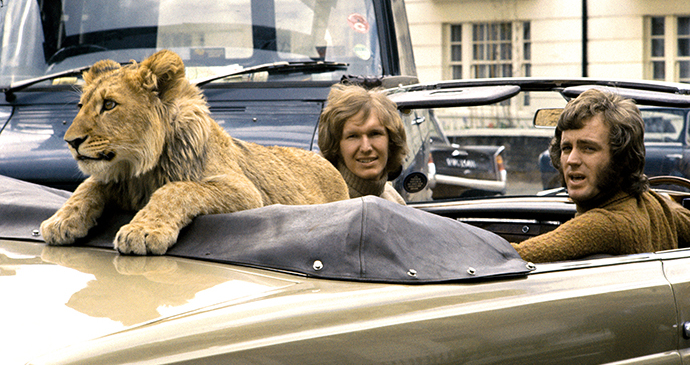 Driving in style: Christian, Derek and John heading down the King's Road in their Mercedes © Derek Cattani
Admittedly, before coming up to the flat he had usually been to his garden for a game of football, or it was at the end of the day, when he was content just to doze. In the wild, lions can sleep up to twenty hours a day, making them either the laziest of beasts or the most efficient conservers of energy.
When Christian was taken to visit friends – and he did receive lots of invitations – we were always careful to consider potential dangers. Would he be safe from traffic? From other animals? How many people would be there? And, most importantly, did we think Christian would be happy? We knew he enjoyed going for drives in the car or in the Sophistocat van, so there was never any difficulty in loading him into the back seat. And we always kept him on his lead when walking him from the shop to the car, even though it was only a few paces.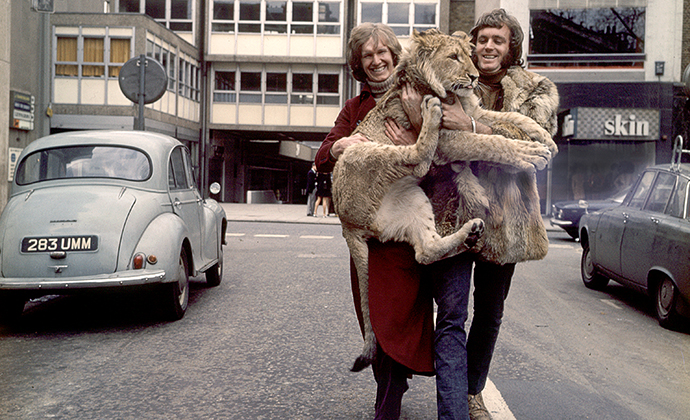 Carrying Christian down the King's Road © Derek Cattani
On one of these outings we took Christian to a huge flat in Kensington, shared by three glamorous Australian girls we had known at university in Sydney. The trio had met Christian in the shop so we didn't anticipate any problems, and as we settled down to a cup of coffee we allowed him to wander around the flat. There was no exit other than the front door, so we were not concerned when he disappeared down the hallway. Unfortunately, one of the girls was still in the bath and hadn't closed the door properly. Christian just nosed in and decided to have a drink from the bath. The resulting shrieks sent him scurrying back up the hall to the sitting room, where he decided to settle down for the rest of the afternoon. Our friend has rather dined out on the story ever since.
Of course, there were other friends who were less keen to meet Christian. But he loved meeting new people and, just like any domestic cat, was invariably drawn to those who were most wary of him. 'Just sit here and ignore him,' we would say to such nervous individuals, reassuring them that he had never bitten anyone. 'Have a cup of coffee and we'll put him on the other side of the room.' After some time, the person would relax. Unfortunately, Christian had not lost interest. He would quietly work his way around the room and, when that person was innocently chatting away, would suddenly jump up and put a paw on them. The resulting kerfuffle, with screams and spilt coffee, delighted him. This was a result!
---
To learn more about Christian's life in London, take a look at the illustrated legacy of his life.