Written by John Rendall
In this extract from Christian The Lion: The Illustrated Legacy, John Rendall recalls their first meeting with the lion cub.
---
Ace and I sat and watched the young lions quietly. We were enthralled by their beauty but also concerned by their conditions, confined in such a small cage and exposed to so many excited and demanding people.
In fact, the cubs did not spend all day in their cage but appeared only when the assistant buyer, Sandy Lloyd, decided they were relaxed or tired enough to spend time in front of the public. At other times, they retreated to their own private space behind the public area. Sandy was even allowed take them to play on the rooftop. Ignorant of this on our first visit, however, we were determined to buy both cubs and provide them with a better place to live – not that I had any idea of where that place might be!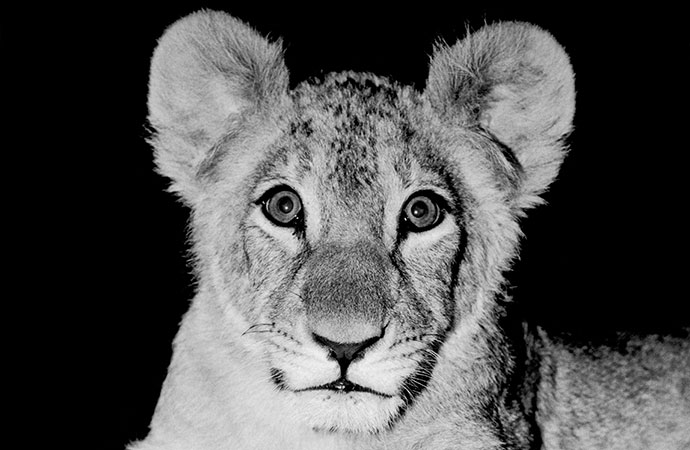 Christian at three months old © Derek Cattani
A sign on the cubs' cage announced that the male was called Marcus and the female Martha. It rapidly became clear that Marcus was far calmer than his sister. While she flattened her ears and hissed at the children who crowded around the cage, he simply stared through everyone, not deigning to acknowledge their presence. Although only a cub, and reminiscent of a real live teddy bear, there was something disconcerting about the self-assured expression in his eyes. It implied a strength of character that made him irresistible.
'Why don't we buy him?' I suggested. 'I've already called him Christian,' replied Ace. Marcus may have been a fine strong name for a lion but Christian was so much more evocative of the historic confrontations between Christians and lions.
It seems the decision had been made. But before going any further, there were many questions to answer and logistics to sort out. First, the cost: the cage carried nothing so vulgar as a price tag, and I struggled to keep calm when a sales assistant quoted 250 guineas (approximately £3,500 in 2018). Traditionally thoroughbred horses are sold in guineas so the implication was clear: Harrods only sold animals of pedigree, even lions. This was a considerable sum of money, given that you could buy a decent second-hand car for the same amount and rent a flat in Chelsea for £20 a week.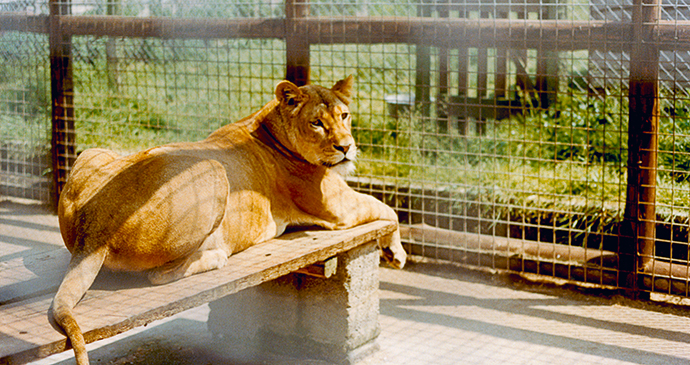 Mary, Christian's mother, at Ilfracombe Zoo © John Rendall
Also, any prospective purchaser would first have to convince Harrods that they would make suitable owners for the cubs. We arranged our first meeting with Sandy Lloyd. As assistant buyer, she spent the most time with the cubs and had a proprietorial interest in their well-being. The cubs may have been promoted as 'the Christmas present for the person who has everything,' but money alone was not going to secure their purchase. I suspected that Sandy was playing for time at this first meeting, when she patiently answered our many excited but naïve questions, but she did give us a sense of hope when she invited us to return the following day to meet the zoo buyer, Roy Hazle. He would make the final decision on the sale.
And so began a series of interviews and visits to try to convince Roy and Sandy that we would make responsible owners. Opening hours in 1969 were from 9 a.m. until 5.30 p.m, with no universal late-night or Sunday shopping. At the end of the day, when other shoppers had gone home, we would thus come to the zoo and play with the cubs in order to help us make a realistic decision about their purchase. This was a wise plan of Roy and Sandy's because it became instantly apparent that we could only cope with one cub. Even at just thirty pounds, each was more than a handful as they leapt around and wrestled with each other and with us: balls of energy with needle-sharp teeth. Martha was the more aggressive, so any thoughts of buying her were soon abandoned. Besides, the cost of buying both was way beyond our budget. Thus we focused our attention on Christian.
---
To learn more about Christian's life in London, take a look at the illustrated legacy of his life.