Written by John Rendall
In this extract from Christian The Lion: The Illustrated Legacy,Christian touches down in his ancestral homeland for the first time.
---
On 23rd August 1970, Christian touched down on African soil. His ancestral homeland. The flight had included a stopover in Paris, where we checked on him and were relieved to find him calm and sleepy. At Nairobi's Jomo Kenyatta Airport, however, he was agitated and called to us continually as he moved around his crate. For the first time in his life he no longer smelled musky, fresh and clean, but was stale and dry, perhaps from sweating in the heat and discomfort of the plane. Even his eyes were bleary – but then so were mine, having been awake throughout the long overnight flight wondering whether Christian was safe in the hold below.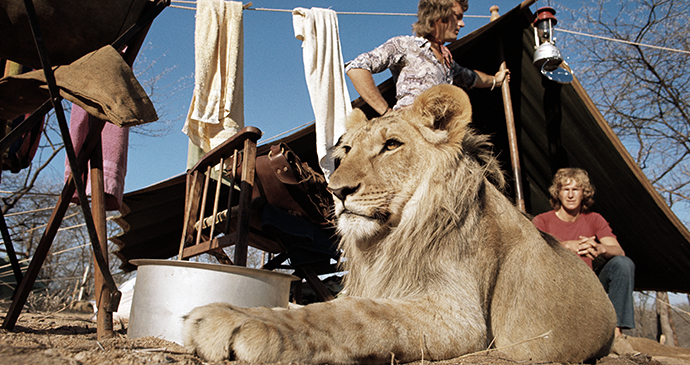 John, Christian and Ace at Kampi ya Simba – 'The camp of lions' – in Kenya © Derek Cattani
Unloading Christian was a prolonged and frustrating process. Security and protocol for 'livestock' meant that Christian's crate had to be cleared by customs and immigration before he could be released into a secure holding area. It was immediately apparent that none of these officials were anxious to inspect Christian too closely. Indeed, from the attention he attracted, it was clear that many had never seen a lion before – or certainly not one as tame as Christian.
George Adamson was there to meet us, anxious to make Christian's acquaintance and to oversee his unloading and transfer from the aircraft. We were apprehensive: at last we were to meet the great lion guru: the man who had rehabilitated the famous Elsa, and in whose hands Christian's destiny now lay. He was a much slighter figure than I had expected and almost dapper, in his neat goatee beard and pressed safari suit. I later appreciated that this was for the benefit of the film company and the special occasion of Christian's arrival.
Adamson carefully studied us with his clear blue eyes, but his real focus was on Christian. He was impressed by his size and condition and, flatteringly, by his affection for Ace and me. Commenting on Christian's lush coat and burgeoning new mane, he explained that no one-year-old wild lion from Kenya would be as impressive as Christian.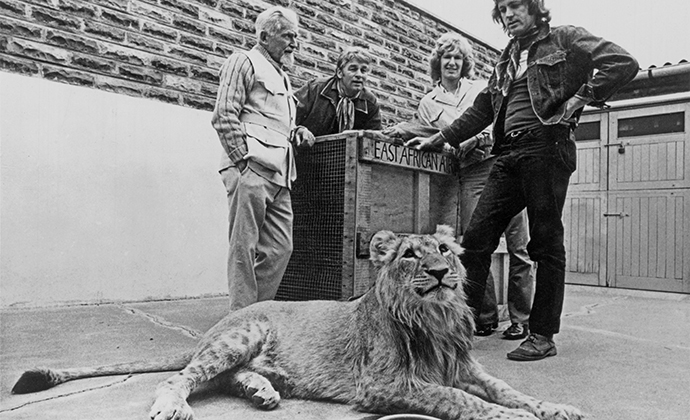 George Adamson meets Christian for the first time, with John, Ace and Bill Travers at Nairobi Airport © Derek Cattani
In subsequent correspondence, George explained how the challenge of rehabilitating a fifth-generation lion from England fascinated him, but admitted that he had some initial misgivings about Christian's owners.
The idea had appealed to me greatly, not only because it would save Christian from a lifetime of captivity but also because it would be, in all probability, the first time an English-born lion had been returned to the life for which he was created. I felt confident that his inherited knowledge and instincts would soon assert themselves, given the chance, and in spite of his breeding.
I must admit that I did not feel the same confidence about his two owners, when I heard that they would accompany Christian and stay for a few weeks in my camp. I had been led to believe they were very 'mod', with long hair and exotic clothing. My first sight at Nairobi Airport of pink bell-bottom trousers and flowing locks did nothing to dispel my misgivings. But Ace and John soon restored my faith in the modern generation. Immediately, I sensed the bond of deep affection and trust between them and Christian. I know from experience how hard it must have been for them to leave Christian to face the inevitable dangers and hardships of a lion in the wild.
---
To learn more about Christian's return to Africa, check out the illustrated legacy of his life.