Written by Hugh Collins
African music traditions
Music is the heartbeat of Africa. Its home to a huge range of musical traditions and cultures, colourful festivals and interesting instruments.
Burkina Faso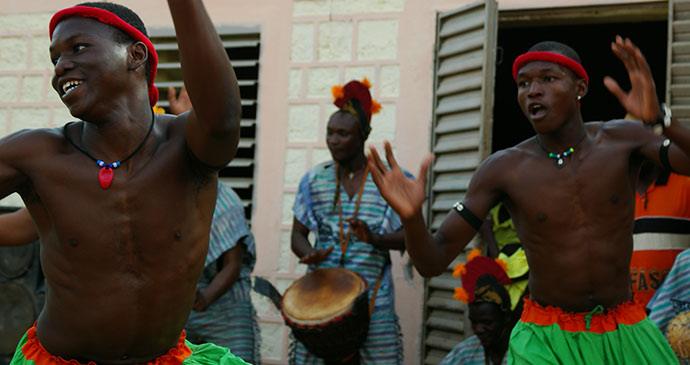 © Katrina Manson and James Knight
Musical traditions are particularly strong in Burkina. There is always a jam going on somewhere, whether under the shade of a tree, in a backstreet bar or in the national stadium. In Ouaga it can seem at times that everyone you meet on the streets plays the djembe, and wants to share the art. Many visitors take up the offer, if the summer planeloads of French students and teenagers crowding departure lounges with all manner of souvenir drums are anything to go by. To pick up some musical tips, the best place to enquire about organised tuition is at the French Institute or Cultural Centre (CCF), in Ouagadougou or Bobo.
Cameroon
The large number of ethnic groups in Cameroon provide a huge variety of musical types. Local festivals and public holidays offer a good opportunity to experience Cameroon's lively music traditions.
In the north of the country, the Toupouri people perform the gourna, where dancers form a circle and carry long sticks vertically. The Bamiléké perform war dances including the lali, protecting the village against invaders, and the tso, where the dancers wear panther skins. The motio dance, in the southwest, features the slaughtering of a goat in one blow of a blade, to signify the bravery and strength of the men.
The folk music of the south of the country is particularly varied, with mainly drum- and xylophone-based compositions of the Bakweri, Bamoun, Beti and Bamiléké, often performed by accompanying masked dancers.
The rare bird, Bannerman's turaco, is important to the culture of the Kom people, from the highlands of the northwest. They use its feathers to decorate their traditional costumes, called chindohs. The turaco's song is mimicked using a njang, which is similar to a xylophone. When there is a death in the village, njang music is played for three days continuously.
A greater variety of instruments is played in the south by the Fang, Eton, Bulu and Mvele, including a small xylophone called the mendzan, zithers, lutes and the ngkul, a traditional drum.
Cape Verde
Music underpins Cape Verdean life, gives it continuity and draws meaning from collective, often brutal experience. With perhaps less literature or art to boast about than other cultures, Cape Verde relies heavily on its varied musical traditions to project its culture and history, both within the islands and also onto the world stage. No visitor to the archipelago will go far without experiencing some musical accompaniment at some point, and oft en the experiences will be moving and memorable. These may be simply a CD being played on public transport, a band playing in a restaurant, a frenzied and spontaneous session in an unlikely location or the beat of the tambour at one of the many religious festivals. Any visit to Cape Verde will be immeasurably enriched by close contact with the islands' music and musicians.
Ghana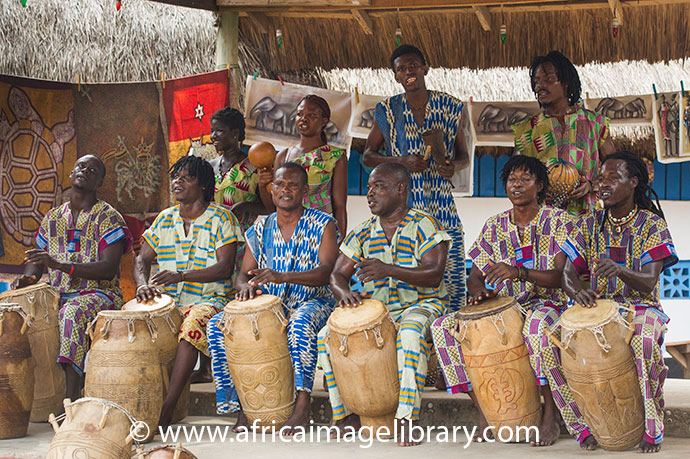 Traditional drummers perform in Kokrobite © Ariadne Van Zandbergen, Africa Image Library, www.africaimagelibrary.com
West Africa is well known for its vibrant and largely self-contained music scene, and for many years Ghana was perhaps the leading innovator when it came to styles that combined traditional African sounds with foreign influences. More recently, Ghana has by and large relinquished its status as innovator to its francophone neighbours; nevertheless, a practically incessant backdrop of music remains a notable feature of travelling in urban parts of the country, and visitors will find themselves exposed to a rich variety of unfamiliar sounds.
The most popular music to have emerged out of Ghana is highlife, a term that covers a broad spectrum of homegrown styles fusing traditional percussive beats with various European, American, and even Caribbean influences. Highlife, developed in the 1920s along the ports of what was then the Gold Coast, was first recorded in the late 1930s, reaching a popular peak in the period 1950–70. Its leading practitioners included E T Mensah, the African Brothers International Band, and, more recently, Alex Konadu and Koo Mino's Adadam Band.
Less easy to hear are the myriad traditional musical styles that hark from all around the country, generally drum-based in the south, more reliant on fiddles and other string instruments in the far north. It is in the north, though, that you are most likely to hear the peculiar 'talking drum', an instrument associated with the Sahel, as well as colourfully robed ensembles of Dagomba drummers (one of which we encountered by chance at a funeral in Bolgatanga).
Malawi
Locals entertaining the guests of the Chintheche Inn, Chintheche © Malawi Tourism, www.malawitourism.com
Malawi music is currently enjoying an explosion of styles and genres which are showcased in bars, clubs and taverns throughout the country every weekend.
Whether it be a traditional band with homemade instruments or a budding Hip Hop or Ragga artist, the standards of music have noticeably improved over the past decade.
Bands such as Wambali Mkandawire and Manyasa and the Black Missionaries have impressed audiences across southern Africa. Lucius Banda, Wendy Harawa, Joseph Tembo and others have toured as far afield as England, France, Australia and Nigeria.
A relative newcomer is John Chibade, who sold over 100,000 copies of his first album within Malawi, while Billy Kaunda and Ben Mankhamba (previously Ben Michael) have maintained their standing with strong recent album releases.
One of the most exciting Malawian acts out today is The Very Best, though they are much better known in the west than within Malawi itself. Fronted by Lilongwe-based singer Esau Mwamwaya and produced by London DJ Johan Hugo, this cross-continental duo is putting together some seriously innovative music, combining frenetic electronic beats with irresistible Afro-pop melodies, and it's all sung in Chichewa. For a sure-fire dance party, check out their cheekily christened 2012 album MTMTMK, or More To Malawi Than Madonna's Kids.
Nigeria
Traditional Nigerian music is played on a number of instruments from an obo (a stringed zither), used during masquerade festivals in the villages of the Niger Delta, to trumpets heralding the arrival of an emir in the north, to the Yoruba 'talking' drum used to accompany a storyteller of oral traditions. But you won't hear much traditional music in Nigeria these days, except at festivals or important ceremonies, and the average Nigerian listens to tapes or CDs of either church or pop music.
From independence to the late 1980s (when the last international record company packed up and left the country) Nigeria was a hotbed for African popular music and there was something of a renaissance in African music during this period thanks to some notable musicians that acquired worldwide fame and success. These include the world-renowned King Sunny Ade and Fela Kuti, and a number of types of music emerged from this era including juju, Afro-beat, highlife and makossa. These days the Nigerian live music scene is somewhat overrated. In recent years many of the more popular musicians have moved overseas – you're just as likely to hear a Nigerian band in London as in Lagos. At one concert we went to see at the Jazz Hole Bookshop, most of the musicians had airline tags on their instrument cases, and had flown in from overseas especially for the occasion, though the good people of Jazz Hole are attempting to revive Lagos's music scene, and now organise a series of concerts over an annual calendar at a variety of venues.
One of the most phenomenal success stories in African music as a whole was the release of Prince Nico Mbarga's 1976 mega-hit 'Sweet Mother'. This heartfelt expression of a son's affection and gratitude sold an amazing 13 million copies, and its mix of Nigerian highlife, Cameroonian ashiko, and Zairean rumba managed to please just about everyone on the entire continent of Africa. Prince Nico, the son of a Cameroonian father and a Nigerian mother, sang in pidgin English.
Rwanda
Music is of great importance to all Rwandans, with variations of style and subject among the three groups. Traditionally, Tutsi songs praised excellence and valour; Hutu songs were lighter, sometimes humorous and linked to social occasions; Twa songs related more directly to aspects of their original occupation, hunting. During the time of the monarchy, the court was dominated musically by the royal drummers, and drumming is still of great artistic importance.
A full drum ensemble typically consists of either seven or nine drums. The smallest of these, sometimes called the soprano, which is often (but not invariably) played by the director of the orchestra, sets the rhythm for each tune and is backed up by some or all of the following drums: a tenor, a harmonist alto, two baritones, two bass and two double bass. The other widely used musical instrument is the lulunga, an eight-stringed instrument somewhat resembling a harp. It is most often played solo, perhaps as the background to singing or dancing, but may also be used to provide a melodic interlude and/or as a counterpoint to drums.
Sudan
Music is at the heart of Sudanese culture, permeating everything from religious ritual to family festivities, and it adds a glorious additional sensory dimension to the sights, smells and tastes of the country. Traditional music can be loosely divided into two groups: the devotional music used to accompany dance and trance during Sufi zikr; and indigenous African traditions involving chanting to the accompaniment of drums and tanbūra (bowl lutes). The most evocative sounds come from live performances at weddings and other family celebrations but there are also a number of recordings in circulation. Although Sudan's towns are filled with music stalls, tracking down recordings of traditional music is surprisingly hard: try the Traditional Music Archive (TRAMA) at the Institute of African and Asian Studies in the University of Khartoum (Al Jam'a St). The International Library of African Music (ILAM) also has articles and recordings online at www.ru.ac.za/ilam.
Sudan's contemporary music has its roots in haqiba, the secular music form of the 1930s and 40s that itself grew out of madeeh, Sufi gospel chants in praise of the Prophet Muhammad. Haqiba was predominantly a vocal art, similar to a cappella singing, and it was based on the pentatonic scale: the same five-note scale used in blues. The accessibility of this sound, its continuity with traditional chanting, and the ease with which new instruments, notably keyboards, saxophones and electric guitars, could be incorporated came together in the 'jazz boom' of the 1960s and 70s. The unique sound spread like wildfire across Sudan, spurred on by local radio and a succession of talented stars. If you ride a long-distance bus or taxi, you'll more likely than not hear a well-worn cassette booming out from a decidedly ropy cassette player.
Tanzania
Tanzania's tribal diversity has meant that a vast array of very different – and, for that matter, very similar – traditional musical instruments are employed around the country under a bemusing number of local names. Broadly speaking, however, all but a handful of these variants can be placed in one of five distinct categories that conform to the classes of musical instrument used in Europe and the rest of the world.
The traditional music of many Tanzanian cultures is given its melodic drive by a marimba (also called a mbira), a type of instrument that is unique to Africa but could be regarded as a more percussive variant of the familiar keyboard instruments. The basic design of all marimbas consists of a number of metal or wooden keys whose sound is amplified by a hollow resonating box. Marimbas vary greatly in size from one region to the next. Popular with several pastoralist tribes of the Rift Valley and environs are small hand-held boxes with six to ten metal keys that are plucked by the musician. In other areas, organ-sized instruments with 50 or more keys are placed on the ground and beaten with sticks, like drums. The Gogo of the Dodoma region are famed for their marimba orchestras consisting of several instruments that beat out a complex interweave of melodies and rhythms.