Written by Hilary Bradt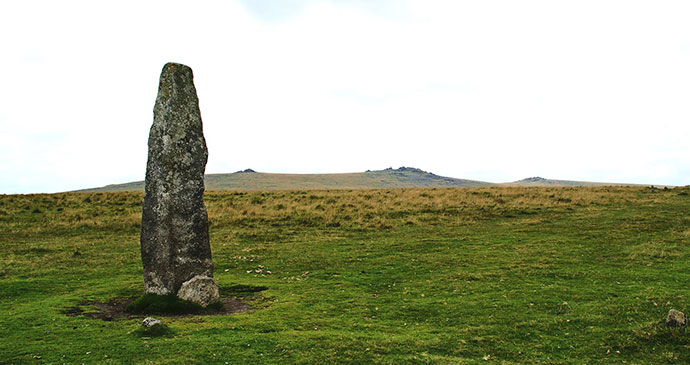 © Herbythyme/Wikimedia Commons
This four-mile walk can be done from Monday to Saturday using the number 98 bus, and takes you through a satisfyingly chronological slice of Dartmoor's history (do of course check the latest bus times, which may differ from those given here). By catching the (currently) 12.40 bus from Tavistock you can explore the prehistoric standing stones by Merrivale, walk along a disused railway line and visit a quarry where stones destined for London Bridge lie cut, but abandoned, and finish at Princetown in time to catch the 15.05 bus back to Tavistock. You will have more time if you catch the earlier 09.20 bus from Yelverton (there are plenty of connections to Tavistock) which gets you to Merrivale at 10.14 giving you oodles of time for the walk, lunch and a visit to the prison museum at Princetown.
Get off the bus at Merrivale car park, and get your bearings from the television mast which supplies Princetown. Walk towards it and you should find the stone rows without difficulty. These are thought to date from between 2500 and 700bc and comprise two double rows of stones, with a third single row at an angle to the others. A standing stone, or menhir, marks each end of the rows and there's also a small burial chamber.
The second row is just beyond it, running parallel, and the small burial chamber is about halfway along. Next, head to a standing stone adjacent to a wall, then set your sights on King's Tor (and the television tower) to the north. This involves a certain amount of cross-country walking, but the disused railway track circles round it, so you can't really go wrong. After that it's easy – just follow the track to Princetown. You are walking on a nice piece of history here. The Plymouth and Dartmoor railway was built in the 1820s to transport granite from the quarries. When this became uneconomical in the 1880s the route was sold to the Great Western Railway. The last passenger service ran in March 1956. The track passes the disused Swell Tor Quarry, and if you have the time and energy it's worth investigation; look for the stone corbels that were cut in 1903 for the widening of London Bridge but never used.
---