The 28km from the coast at Wadi Tiwi to the green inland oasis of Wadi Bani Khalid is the only properly waymarked route in the Eastern Al Hajar Mountains, and probably also the most spectacular, unless you decide on the sheer ascent from west of the highway.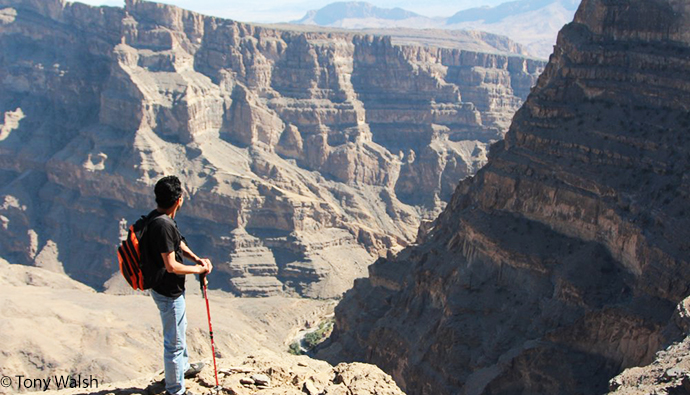 However, it is not for the fainthearted, as it requires either 14 hours with a light pack or 18 hours plus an overnight with camping gear to cover the distance. If you do this without a tour operator you will need to plan ahead and think about how to get back, as there is no public transport at either end.
One quite fun idea, if you have two vehicles in your group, is for each party to walk from opposite ends and to meet in the middle and swap keys – make sure you have duplicate keys with someone else in the party just to be sure it all works.
On the Wadi Tiwi side the starting point is the village of Mibam (if you use local support), and you can make an early start by camping on one of the many beaches near Tiwi. On the Wadi Bani Khalid side the walk begins just after the village of Muqal by the pools, where you can camp under the palm trees. The trek follows an ancient donkey trail and is waymarked (E35) using the standard yellow, white and red stripes, and cairns. You must take your own water for the trip and be self-sufficient in food as there is no settlement on the way. The highest altitude reached is 2,100m and the difference is 1,800m, making this one of the more gruelling and challenging treks in Oman. The fabulous landscape, with stunning views over deep canyons and green wadis, will make it a memorable experience. There are no unstaffed overnight huts or similar accommodation here or indeed anywhere in Oman.
---
More information
Discover even more of Oman's fantastic landscape in our guide: