Written by Gail Simmons
In 1874, the lovesick author Robert Louis Stevenson stepped off a train at High Wycombe station on the first leg of a three-day journey across the Chiltern Hills to Tring. Almost 150 years later, Gail Simmons took to the hills in his footsteps, chronicling the world of her childhood before the construction of HS2 brings commensurate destruction to this ancient landscape.
Entwining personal memories with impassioned interviews and extracts from Stevenson's 'In the Beechwoods', Gail portrays the poet's 'Country of Larks' from prehistory to the present day. To discover what lies beneath, read on…
---
'The lanes were profoundly still. They would have
been sad but for the sunshine and the singing of the
larks. And as it was, there came over me at times a
feeling of isolation that was not disagreeable, and yet
was enough to make me quicken my steps eagerly when
I saw someone before me on the road.'
R L Stevenson
The lanes were profoundly still that Sunday afternoon too, although sadly no larks were singing. My feeling of isolation was not disagreeable either, as I followed in the footsteps of Stevenson's lovesick ghost. Heading away from Little Missenden along a narrow road marked on my map as Chalk Lane, the idyll was ruptured by the grumble from the A413 which now bypasses the village. Stevenson, the scion of a great engineering dynasty, might have approved of this road, but I did not as I scurried across, dodging the traffic.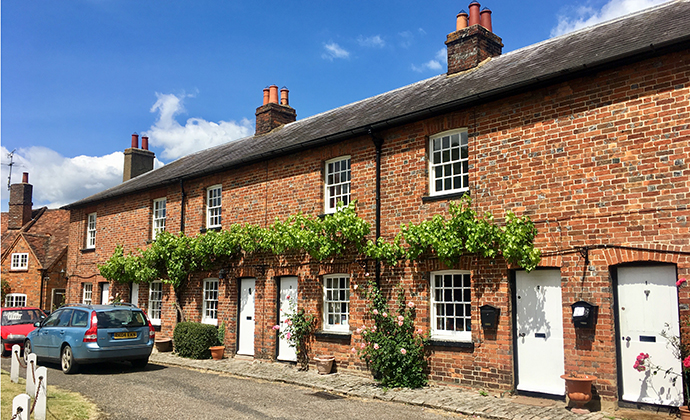 Gail's journey takes her through the village of Little Missenden before she heads for the chalky uplands © No Swan So Fine, Wikimedia Commons
Chalk Lane now led me out of the Misbourne Valley and up into the chalk uplands, and once again I became aware of the geological and climatic forces that shaped these hills. From around 145 million years ago the Chiltern chalk started to form under sub-tropical seas, to be thrust upwards by massive tectonic forces some eighty million years later. And although they were never entirely covered by glaciers during the Ice Ages, their tundra-like hills were carved by ice and frost to emerge as vertebrae in a spine of chalk hills that run from the Dorset Downs in southern England to the Yorkshire Wolds in the north.
It is the Chilterns that John Bunyan is thought to be describing when he writes in The Pilgrim's Progress (1678) of 'a most Pleasant Mountainous Country, beautified with Woods, Vineyards, Fruits of all sorts; Flowers also with Springs and Fountains, very delectable to behold'. Three hundred and forty years on and Chiltern woodlands are beautiful yet: fruit and flowers still grow in Chiltern gardens and vineyards still prosper on their slopes.
Looking back from the top of just such a slope I could no longer see Little Missenden, sequestered in its valley. This mirage of village England had dissolved back into the miasma from where it came.
---
Read more in Gail Simmons's new book: