Written by Philip Briggs
Best for game viewing
Serengeti National Park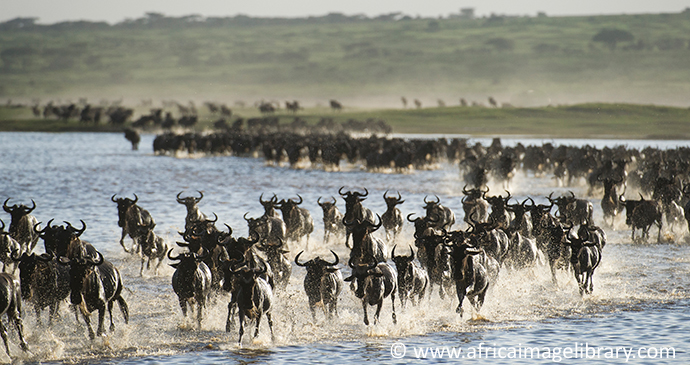 A million-strong herd of wildebeest migrate across the Serengeti plains each year © Ariadne Van Zandbergen, Africa Image Library
The linchpin of the popular northern safari circuit, this world-renowned park harbours large numbers of predators, as well as being the site of a legendary migration comprising million-strong herds of wildebeest and zebra. Overcrowding in this popular park is restricted to the southeast, so those with sufficient time and a suitable budget are advised to explore the more remote west and north.
Ruaha National Park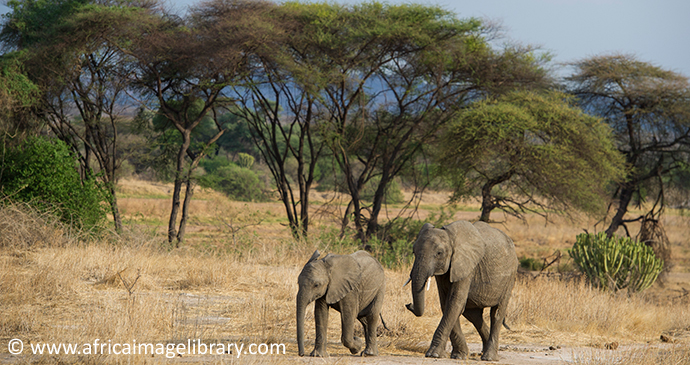 Ruaha is a great place to see elephants © Ariadne Van Zandbergen, Africa Image Library
Probably the most varied of the southern parks in terms of large mammal and bird diversity, this southern counterpart to Tarangire was recently enlarged and combines great elephant and big-cat viewing with a truly untrammelled bush atmosphere.
Mahale Mountains National Park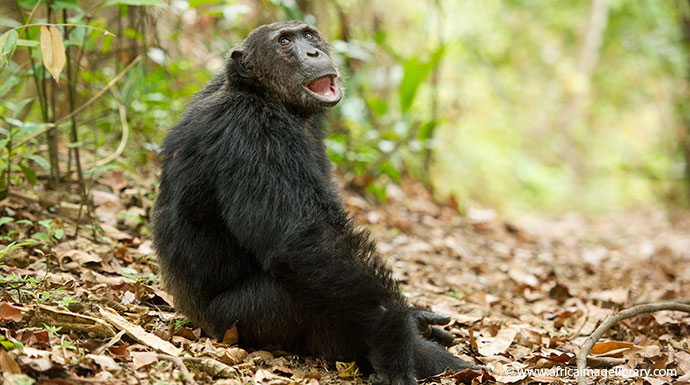 Mahale Mountains is arguably the top chimp-tracking destination in Africa © Ariadne Van Zandbergen, Africa Image Library
Mahale Mountains is quite simply one of the most beautiful national parks anywhere in Africa, and it also ranks as arguably the top chimpanzee-tracking destination anywhere on the continent.
Selous Game Reserve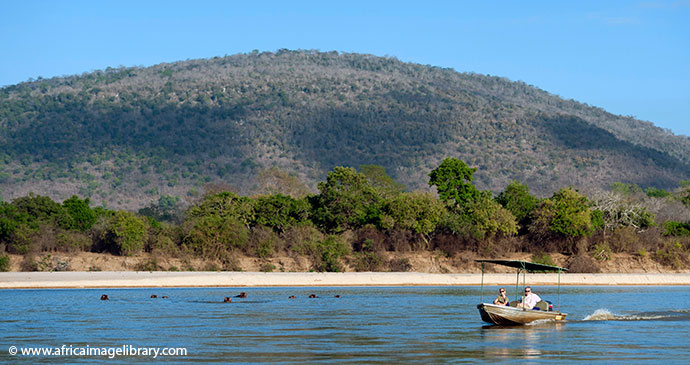 Boat trips along the Rufiji River are a popular activity in the Selous © Ariadne Van Zandbergen, Africa Image Library
Dominated by the Rufiji River, this vast reserve is the only place in Tanzania where almost all camps supplement game drives with guided walks and boat excursions. It also offers your best chance in East Africa of seeing the endangered African wild dog.
Tarangire National Park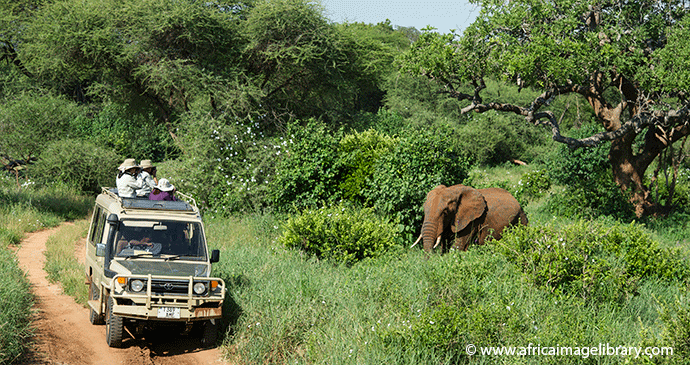 Tarangire is known for its year-round proliferation of elephants © Ariadne Van Zandbergen, Africa Image Library
Less celebrated than the Serengeti – and, as a consequence, less heavily touristed – Tarangire preserves a classic chunk of dry savannah studded with plentiful baobabs and home to prodigious elephant herds, along with plenty of other wildlife.
Gombe Stream National Park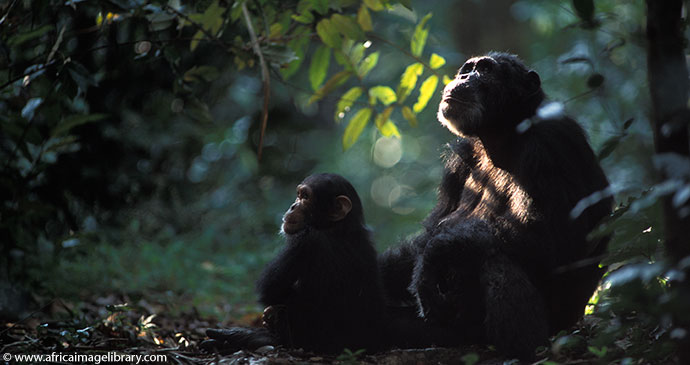 Gombe Stream is best known for its chimpanzees © Ariadne Van Zandbergen, Africa Image Library
Gombe Stream is one of a handful of African national parks that could reasonably claim to be a household name in the west. It is best known for its chimpanzees, or more accurately perhaps for the research into their behaviour undertaken by the groundbreaking primatologist Jane Goodall. Yet, surprisingly, it remains a rather remote and low-key reserve.
Best for birds
Lake Manyara National Park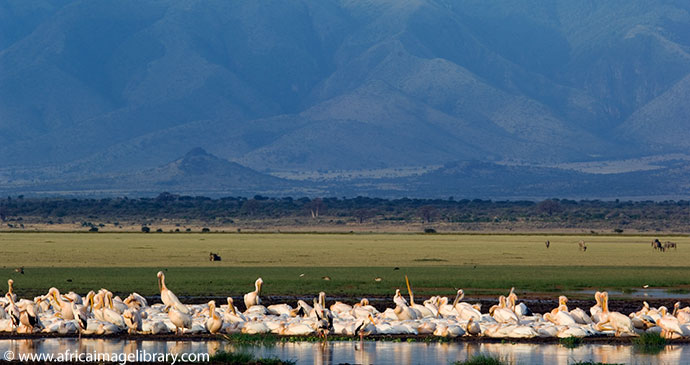 Pelicans are a common sight at Lake Manyara © Ariadne Van Zandbergen, Africa Image Library
All of the northern safari circuit offers good birding, but for first-time visitors to Africa Lake Manyara is the jewel in the region's avian crown, offering a good opportunity to tick off 100 species – from flamingos and storks to eagles and barbets – in a day.
Mikumi National Park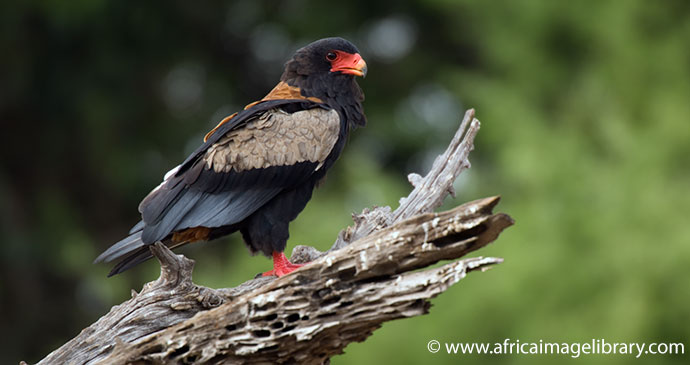 The bateleur eagle is a common sight on the floodplains of Mikumi © Ariadne Van Zandbergen, Africa Image Library
The fourth-largest national park in Tanzania, Mikumi never features prominently on tourist itineraries. Nevertheless, it's emphatically worth a night or two on any road safari through the south, and more than 400 bird species have been recorded in the park.
Mkomazi National Park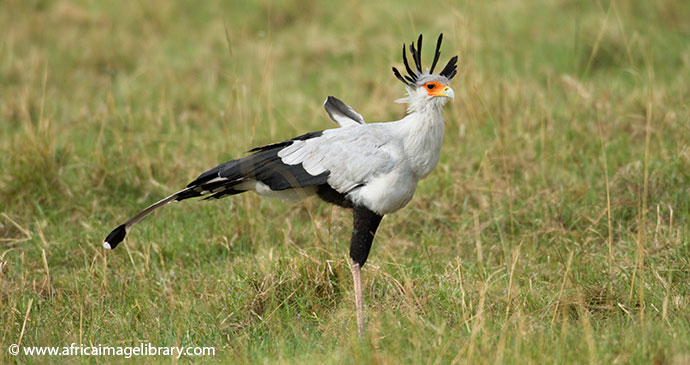 The secretary bird is often seen in Mkomazi © Ariadne Van Zandbergen, Africa Image Library
While Mkomazi doesn't offer game viewing to compare with other reserves in northern Tanzania, this is compensated for by the impressive birdlife, the wild scenery – mountains rise in all directions, with Kilimanjaro often visible to the northwest at dawn and dusk – and the near-certainty of not seeing another tourist.
Rubondo Island National Park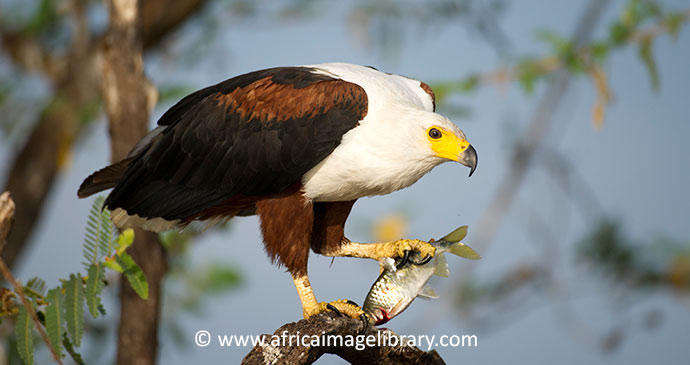 Rubondo Island is a good place to spot African fish eagle © Ariadne Van Zandbergen, Africa Image Library
Situated in the southeastern waters of the vast Lake Victoria, this forested island supports several species with a limited distribution elsewhere in Tanzania, with African grey parrots and other forest dwellers vying for attention with fish eagles, herons and other water-associated species.
Best for hiking
Mount Kilimanjaro National Park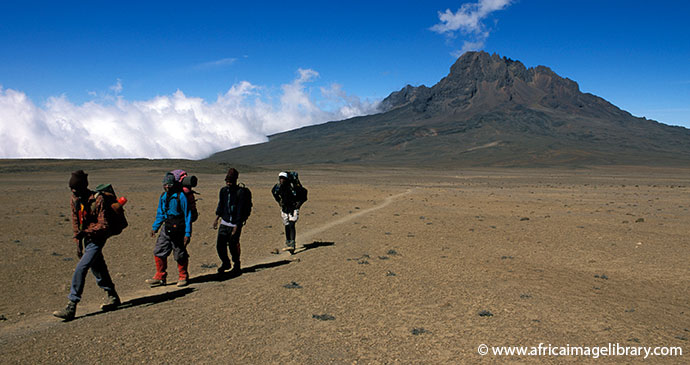 Mount Kilimanjaro is the ultimate challenge for many hikers © Ariadne Van Zandbergen, Africa Image Library
Encompassing the peaks and forested slopes of the continent's highest mountain, Kilimanjaro is climbed by thousands of tourists every year, not only to stand on the snow-capped pinnacle of Africa, but also to experience the other-worldly Afro-montane moorland habitat of the upper reaches.
Udzungwa Mountains National Park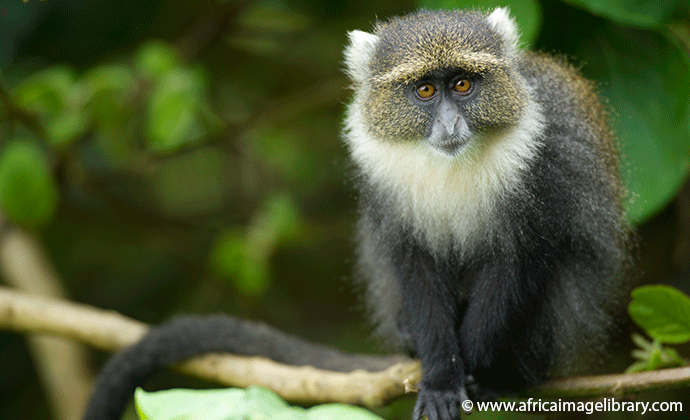 Monkey lovers will find much to enjoy at Udzungwa © Ariadne Van Zandbergen, Africa Image Library
Protecting the largest of the Eastern Arc ranges, this pedestrian-oriented park offers the opportunity to hike to several lovely waterfalls, through lush forest inhabited by several rare monkey species and a variety of smaller endemics.
Arusha National Park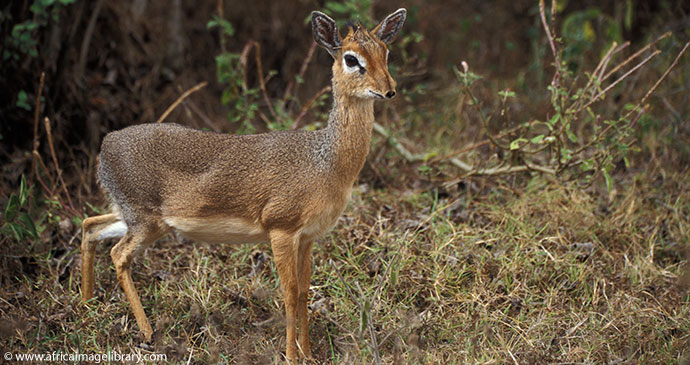 The cute dik dik at Arusha National Park © Ariadne Van Zandbergen, Africa Image Library
The most accessible wildlife destination in northern Tanzania, just 45 minutes' drive from the eponymous town, Arusha National Park is an easy target for a half- or full-day trip at the start of a safari. Climbers will be attracted by the dominant Mount Meru, while for non-hikers a cluster of attractive lakes can be explored by road or on organised canoe trips.
Best off-the-beaten-track parks
Katavi National Park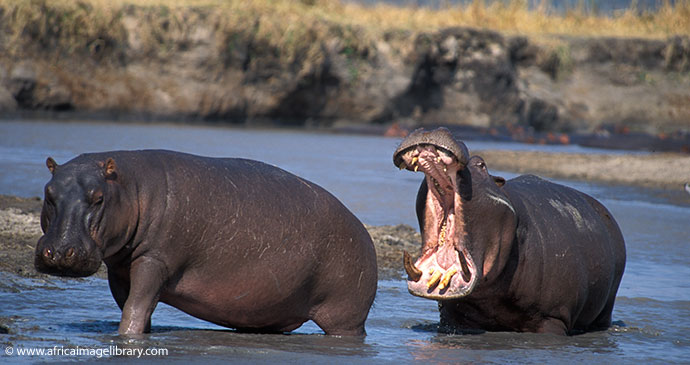 Katavi is home to the continent's densest population of hippo © Ariadne Van Zandbergen, Africa Image Library
Katavi retains a truly remote wilderness character – it is one of the few safari destinations where you're likely to see more lions that you are other people. Indeed, if any national park deserves the well-worn accolade of 'Africa's best-kept game-viewing secret', it is surely Katavi, with its plentiful lions and elephants, large herds of buffalo, and what is possibly the continent's densest concentrations of hippos. In short, the perfect goal for anybody seeking a true bush experience!
Kitulo National Park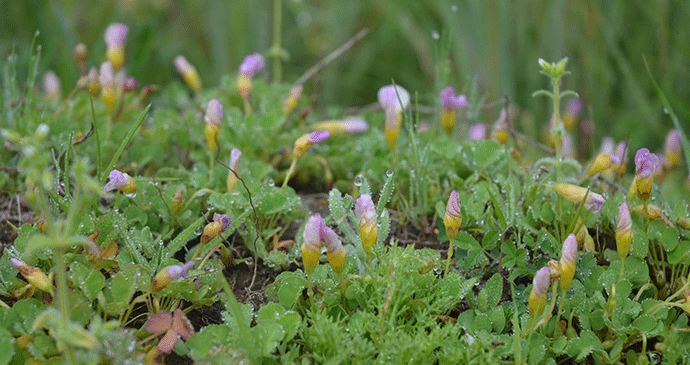 Kitulo is a treasure trove of floral delights © Jojona, Wikimedia Commons
Tanzania's newest national park, gazetted in 2005, is also perhaps its most obscure, being the first such entity in tropical Africa to be gazetted primarily for its floristic significance. Known locally as 'Bustani ya Mungu' (God's Garden) and elsewhere as the 'Serengeti of Flowers', the plateau hosts one of the world's great floral spectacles between November and April, when 350 species of vascular plant come in to bloom.
Saadani National Park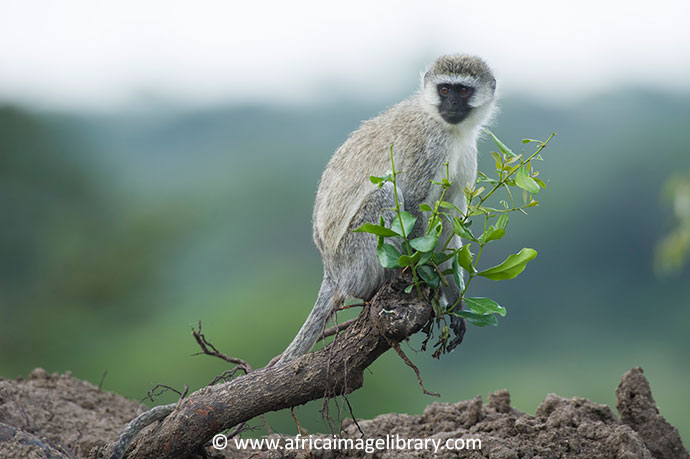 Vervet monkeys are a common sight at Saadani © Ariadne Van Zandbergen, Africa Image Library
Saadani is the only wildlife sanctuary in East Africa graced with an Indian Ocean beachfront. The park retains a low profile by comparison with the likes of the Serengeti and Ruaha, and certainly it doesn't bear comparison to Tanzania's finest when it comes to conventional wildlife viewing. That said, the prolific birdlife, boat trips up the atmospheric Wami River, guided bush walks and the relative scarcity of other tourists make it a worthwhile stop.
---
Start planning your safari in Tanzania with 10% off our comprehensive guide: