Written by Bradt Travel Guides
Museum of Broken Relationships, Zagreb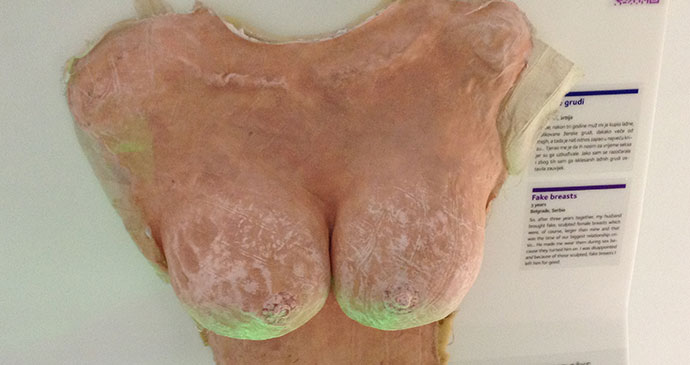 © Robert Nyman, Flickr
When the Museum of Broken Relationships opened in Zagreb in 2010, it instantly became the most talked about museum in the capital (or indeed the whole of Croatia), attracting more international attention than perhaps any other. The following year, at the European Museum Awards, it won the Kenneth Hudson Award for the Most Innovative Museum in Europe. Physical fragments of people's past, failed relationships are displayed alongside the story of that relationship's demise, written by one of the former couple. At turns fascinating, hilarious and deeply touching, this is unlike any other museum you are ever likely to visit.
Museum of Peasant Uprisings, Gornja Stubica
Back in the 16th century, peasants were treated appallingly, overloaded with dues to foreign overlords, expected to fight their battles for them, and driven to the brink of starvation by people who mostly lived idle lives in opulent palaces. By 1573, in this area, it was all too much, and the peasants revolted, but the uprising was quickly put out. The museum is actually a bit of a misnomer, telling you more about the luxurious lifestyle of the oppressors than the beaten-down existence of the oppressed – though maybe that's the point: this is what you're meant to revolt against. (To be fair, however, there are lots of explanatory panels, in Croatian only, which may do the trick.) A roomful of furniture and trinkets only confirms the distance between rich and poor, though you can't help admiring the pocket sundial dating from 1755. 'What time is it, your honour?' 'I'm afraid I can't tell you – it's raining.'
World of Insects Museum, Varaždin
This is an absolute must for entomologists, featuring a thousand species of bugs and more than 4,000 exhibits. It was the work of Franjo Košćec, who spent decades collecting the specimens here, and was personally responsible for the museum's creation in 1954. It's one of the best collections of its kind, demonstrating not only Croatia's endemic species, but also the life cycle and habitats of various insects, in a modern, stylish setting – and there's even a charming re-creation of Košćec's study. If you're interested, or have kids, the interactive 'Kukci' CD-Rom for sale here is simply excellent.
House of Fairy Tales, Ogulin
This is an excellent interactive museum on the life and works of Ivana Brlić Mažuranić, Croatia's most famous fairy-tale author, who was born in Ogulin. Kids will love it here, as the museum organises various workshops, but it's interesting for grown-ups too. The town also puts on an annual fairy-tale festival in June.
Malacological Museum, Makarska
That's seashells, to you. There's a collection of more than 3,000 shells from around the world housed in the cellars of the Franciscan Monastery, put together by one of the monks, Jure Radić, and opened in 1963.
Museum of Croatian Architectural Monuments, Split
Heading west from the old town, a 15-minute walk will get you to this unusual and fascinating collection of Croatian artefacts from the 7th century on, housed in a wonderfully airy modern building. Around 5,000 items are on display (from a collection of more than 20,000 in total), running from old jewellery and stone inscriptions to a unique series of monuments from early Croatian churches, including gables, friezes, altar canopies and baptismal fonts. Worth buying the English guide for full information.