Written by Paul Clammer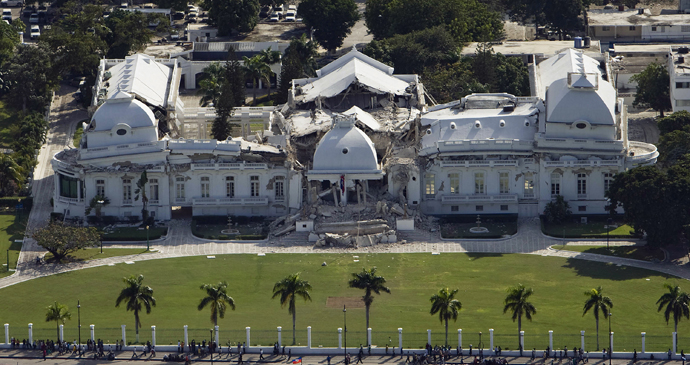 Haiti's beautiful Presidential Palace (National Palace) In Port-au-Prince was heavily damaged in the earthquake © Logan Abassi-UNDP Global, Wikipedia
Haiti has been no stranger to devastating earthquakes. In 1751 and 1770, Port-au-Prince was severely damaged by tremors, while in 1842 Cap-Haïtien was completely flattened in a huge quake. But the damage done by these events doesn't begin to match the scale of destruction wrought on 12 January 2010.
The magnitude 7.0 earthquake struck at 16.53. Its epicentre was near the town of Léogâne, dangerously close to the capital. From a depth of 13km (8 miles), a half-minute of shaking flattened that town and tore a destructive swathe through Port-au-Prince, and caused damage as far as Jacmel in the south and Petit Goâve in the west. Anywhere else in the world the earthquake would have been a catastrophe, but the fragile nature of the Haitian state and the vulnerability of its population turned 12 January 2010 into a truly terrible disaster.
When viewed as cold statistics, the numbers are horrific. Over 180,000 buildings were damaged or destroyed outright. That figure includes 90% of schools in Port-au-Prince, 60% of hospitals and clinics and 60% of federal buildings (just one government ministry building survived unscathed; the National Assembly and Supreme Court were levelled). Several iconic buildings were flattened, including the beautiful wedding-cake National Palace and Port-au-Prince's two cathedrals. The headquarters of the UN was reduced to rubble.
When viewed as cold statistics, the numbers are horrific. Over 180,000 buildings were damaged or destroyed outright.
The human cost was even harder to fathom. While there are no firm figures, it's estimated that over 200,000 people lost their lives, with 300,000 people injured. With buildings everywhere flattened, more than a third of the population of Port-au-Prince was made instantly homeless. In the immediate aftermath, 600,000 people left the capital, while six months on from the earthquake, there were 1.3 million internally displaced people (IDPs) living in 1,300 camps, with 800 camps in the capital alone.
Emergency response
It took several days for any serious relief effort to be mounted – both the main airport and dock facilities were put out of action by the earthquake. Haitians were the first responders, rescuing neighbours, sharing food and setting up makeshift clinics. The US military sent 22,000 forces to co-ordinate relief efforts. While this helped to start getting aid flowing, some critics suggested that an over-emphasis on security may have actually hampered some aid getting through (media-led fears of looting and anarchy notably failed to materialise).
Aid and NGOs (non-governmental organisations) flooded in. Governments and private citizens worldwide donated massively to the relief effort. Within three months, billions of dollars had been pledged to help Haiti. In the rush to help there was confusion and duplication, but under the auspices of the UN's Cluster System, where different agencies could share information on their efforts in their various areas (housing, water and sanitation, protection and so on), some sense of co-ordination was slowly achieved. This wasn't helped by many of the myriad NGOs operating outside the loop and totally unrecognised or registered with the Haitian authorities.
Hardly any of the aid was earmarked to go through the Haitian government itself – around 1% of the total monies. Instead, a trans-national body, the Interim Haiti Recovery Commission, was formed, led by former US president Bill Clinton and then Haitian prime minister Jean-Max Bellerive to co-ordinate funds for reconstruction efforts, although this was dissolved in late 2011.
Move to recovery
If the initial emergency response phase was complicated enough, any move to recovery and reconstruction has been even harder. The earthquake revealed many of the social, political and economic fault lines already bedevilling Haitian society. For instance, 90% of those living in tent camps had been renting their homes before the earthquake. The question of rehousing, whether in transitional shelters or permanent accommodation has run up against problems of land availability (with much land in the city covered in rubble) or land tenure (where many records were destroyed in the earthquake).
Showcase reconstruction camps outside the city have not met with great success, either being too far from economic opportunities for residents or sited inappropriately – the flagship Corail Cesselesse site flooded in its first hurricane season. Meanwhile, many camps received no NGO assistance while in others residents were plagued by insecurity and (especially women) gender-based violence. Nearly two-thirds of camps were on private land, and as time has passed with stalled relocation programmes, forced evictions have become increasingly common.
If the initial emergency response phase was complicated enough, any move to recovery and reconstruction has been even harder.
Recovery in complex disasters usually takes up to five years, even in countries that started from a higher base line than Haiti. Yet less than half the money initially pledged for Haiti by the international community appeared. Further hampering efforts was the cholera epidemic, another symptom of Haiti's chronically inadequate infrastructure. At the time of writing, there was increasing resentment among some about the NGOs and a lack of Haitian participation in reconstruction decisions. Over two-and-a-half years later, nearly 400,000 people were still living in tent camps. With a chronic shortage of new housing being built, it's feared that these camps are becoming institutionalised into permanent shanties.
Haitians have dubbed the earthquake Goudogoudou, an onomatopoeia for the sound that the buildings made as they were shaken into rubble. Others simply refer to it as bagay la ('the thing'), an event so powerful it can't even be named. Its aftershocks continue to reverberate throughout the country.