Author's take
The inhabited isles of the Outer Hebrides run from the Butt of Lewis in the north to Vatersay in the south, tapering at either ends to an unbroken ocean. Along the way, they encompass places with evocative names strung out in a gentle arc: Lewis, Stornoway, Harris, Uig, the Uists, Benbecula, Eriskay and Barra. Collectively, they make up a breathlessly gorgeous spine of cliffs, dunes, hills, beaches, peat, moorland, lochs and volcanic rocks.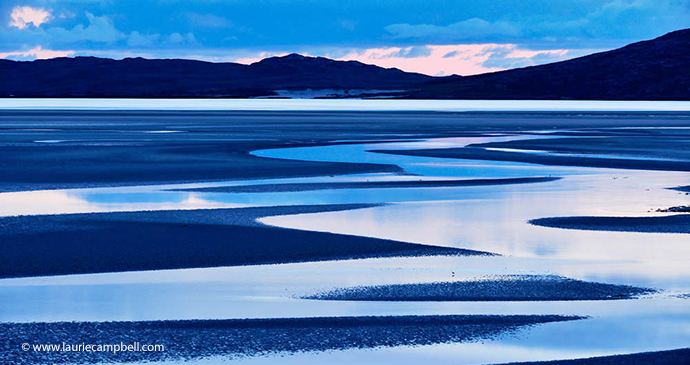 There are many beautiful views to be found in Harris, Luskentyre © Laurie Campbell Photography, www.lauriecampbell.com
Like many before and after, I fell first for the picture-postcard beaches of the Outer Hebrides, the endless miles of shell-sand that deliver Robinson Crusoe moments where your footprints are often the sole dents in the fine substrate. You could easily compile a case for the top ten beaches in the UK all being located in the Western Isles.
The wildlife is astonishing, too. You will see big animals for sure on any visit, from red deer to eagles and seals. Getting around takes time but is, as the cliché goes, part of the journey. And some trips, such as the ferry across the Sound of Harris between South Harris and Berneray, have few equals in the UK, or in the case of the beach landing on Barra, are unique.
The Outer Hebrides are about more than their natural wonders. You quickly come to appreciate the warmth and hospitality of the islanders. Your accommodation hosts, the skipper of a boat trip, will often be among the memories you take home. The revival of Gaelic, which here has long preceded the rise in nationalism on mainland Scotland, is striking, and music, too, retains its distinctive rhythms and cadences. The ancient heritage is palpable, from Iron Age brochs to Celtic chapels. Many blackhouses, a form of traditional shelter where families and animals lived under the same roof, are still standing, gateways to an immediate past that were occupied until the 1970s.
Food, too, is a revelation. Pioneers here have for years drawn on the natural resources of fish, lamb and beef. Now word is getting out. There's a food trail that embraces community cafés run by volunteers and chefs who take their food extremely seriously. The quality is remarkably high, and you really have not tasted salmon until you have eaten it here.
A bewitching sense of remoteness accompanies you around this ancient landscape of islands on the edge of the UK, something that is reinforced when the weather bares its teeth, as it oft en does. Turn on the radio and the news from Edinburgh seems as distant and irrelevant as do reports from London, as though it comes from another country. In many respects it does. A diff erent outlook on life still prevails here: people working the land, drawing to a signifi cant degree on their natural resources, which not only sustain them but determine to a large degree how they live the way they do. The traditions of crofting, fishing, weaving are uncontrived and meaningful strongholds of that culture. For those in search of a place where travel is slow in all senses of that word, these islands are for you. And, should you travel all the way from north to south, there are few more evocative journey's ends than Bàgh a Deas, the bay at the bottom of the island of Vatersay. This graceful bay, grazed by cattle and walked by very few people indeed, marks the conclusion of a dreamy island chain. Fàilte!
Author's story
I first became aware of the Outer Hebrides in the 1990s when, finding myself in Yugoslavia near the end of an Inter-Rail trip, I used my remaining days to travel the furthest distance possible – so I headed for Inverness. I took a bus from there to Skye, where I watched a ferry bouncing out to sea over choppy waters. In my ignorance, I had no idea there was anything further west.
And in all honesty, most guidebooks to Scotland can leave you with the same impression: I've rarely seen a guidebook dedicated solely to these islands. Invariably, the few national and international publishers that do cover the islands shoehorn them into tomes of the 'highlands and islands' genre, yielding space to Mull, Skye and even Orkney and Shetland. That means much of the wonder of these islands is skimmed over. Benbecula and Barra are often lucky to get a paragraph, let alone a page or two. Here, they get their own chapters, which I hope you feel they deserve.
A good deal of my professional work and interest focuses on the natural environment and both human and social geography, which run through these islands like the rivers and burns through the North Harris Hills. I felt there were wonderful travel experiences to share. Researching this book has been a labour of love and has drawn on nearly 10 years of visiting these islands.
The concept of slow travel has caught on in recent years, yet the Outer Hebrides was such a destination long before the term was even coined. For that reason, I should add my gratitude to Bradt Travel Guides for recognising that the islands sit comfortably within their remit of promoting sustainable travel and, indeed, the road less travelled.